How to choose this product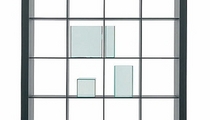 Shelves constitute basic furniture for homes, offices, public buildings and other settings. ArchiExpo offers a wide range of shelves organized by style, intended use and materials. There are traditional, contemporary, period and design models, including environmentally responsible products.
Applications
Different types of shelving can be used as sideboards, to hold books or in bathrooms or kitchens. Contract manufacturers can fill large orders to specifications required by hotels, offices and public buildings. Eco-design versions are made from recovered or recycled materials, or using certified production processes. These include cardboard and certified wood models.
Technologies
Individual shelves and shelving units are made from solid wood, plywood, MDF, tempered and untempered glass, concrete, aluminum, stainless steel, plastic and other materials. They can be fixed or mobile. Fastening systems include wall anchors, brackets and cleats, among others.
How to choose
Choice will depend on available space, the size of the unit, its load-bearing capacity and the flexibility or modular characteristics of the individual storage elements. In the home, style is particularly important. More than just storage, shelving can constitute a decorative piece affecting the character of its surroundings. There are organic design, minimalist and many other versions.
Advantages
- Facilitate storage and organization
Disadvantages
- Can occupy substantial space