How to choose this product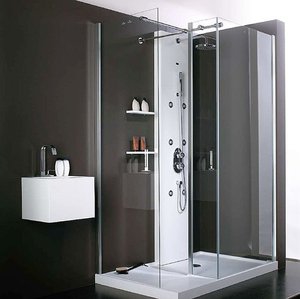 A shower stall comprises a base with a water drain, shower head and tap, enclosed by side panels, usually of glass or another transparent or translucent material. It is usually over 1.9 meters high and rectangular, occupying from one half to 1.8 square meters.
Technologies
Some shower heads include a massage feature, providing relaxation and stimulation. Other options include aromatherapy, sauna or hamam functions. While most stalls have manual taps, electronic control is also available.
How to choose
Choice will depend on location, size and shape of the stall, temperature control type (mechanical or thermostatic) and door type (hinged, pivoting or sliding/folding).