How to choose this product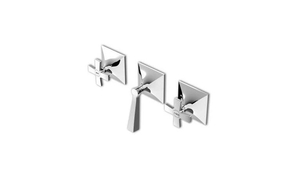 A double-handle shower mixer has individual controls for the hot and cold water flowing from a single spout. Water temperature is set by adjusting the two handles. ArchiExpo organizes these devices by style such as retro, traditional, contemporary, design or baroque.
Applications
Such bathroom fixtures are generally found in both residential and professional settings.
Technologies
These mixers have two cross handles attached directly to the fixture body. The hot water feed is to the left and the cold to the right. The valve closes by seating against a seal, which should be changed annually to avoid leaks. Newer, ceramic disc valves are more durable and easier to use since they open and close with just a quarter or half turn. The entire assembly must be changed in case of a leak.
How to choose
Choice will depend on desired style, traditional or modern, for example. Fixtures are single- or five-hole, depending on the specific requirements of the installation.
Disadvantages
- Less economical; slower adjustment