How to choose this product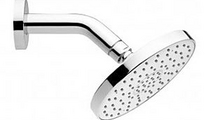 The shower head is the plumbing fixture which directs the and determines the characteristics of the water spray. It can be of wood, metal or molded transparent or opaque plastic of various colors. Many models have a chrome finish.
Technologies
Spray type runs the gamut from a gentle rain to a powerful hydro-massage, including waterfall, Turkish bath and aromatherapy effects. Other options include orientable jets and water that changes color according to its temperature.
How to choose
Choice will depend on constituent materials, number of jets, design and finish, as well as the guarantee.
Advantages
- Comfort
- Water-saving options
- Design variety
- Multiple functions