How to choose this product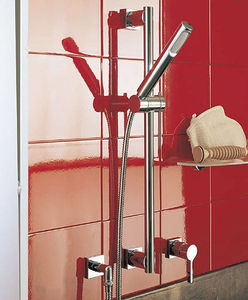 A shower mixing faucet uses a single lever to control both water flow and temperature. ArchiExpo offers a range of such fixtures, including temperature-regulating models, different spray options and varying number of mounting holes.
Applications
These items are usually found in home bathrooms or public shower facilities.
Technologies
Traditional mixers include an aerator to save water and to make spray direction consistent. Temperature-control models deliver water at a constant temperature. Cascade mixers provide an non-aerated stream of water. They are trendy, but waste water. Some taps have high and low settings to limit flow. Public showers may have an infrared sensor control instead of a handle. Water temperature is usually controlled automatically.
How to choose
Choice will depend on features and style, be it modern, traditional or another look. Price varies with design and features, including aerator, cascade and temperature regulation.
Advantages
- Better temperature and flow control
- Water and energy savings
- Easier to clean
- One-hand operation