How to choose this product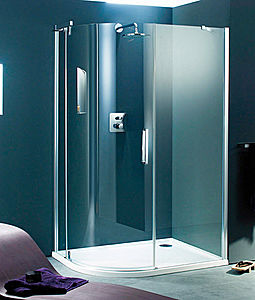 ArchiExpo presents shower screens of various types. Configurations include curved, pentagonal, square, rectangular and corner units. There are also technical characteristics, such as stationary, swinging, pivoting, sliding and recessed screens.
Applications
These screens are commonly found in a home or hospital bathroom.
Technologies
Shower screen material is divided into two main categories:

- Safety glass resists shock and heat. Its thickness varies from three to eight millimeters. Solidity increases with thickness, but thicker screens are heavier, harder to handle and to install. A thickness of about five millimeters is often recommended. Above six millimeters, no frame is necessary, improving transparency. Various configurations are possible without sacrificing quality: transparent, decorated, frosted, stippled or opaque.

- Synthetic screens (PVC, acrylic, etc.) are lighter and easier to handle. However, they do not last nearly as long as glass models. Choice of style is reduced to transparent, opaque or molded.

Stationary or pivoting, rounded or pentagonal, with or without door, two mounting systems are available: hinged and sliding.
How to choose
Choice of shower screen will affect the spatial and ergonomic characteristics of the bathroom.
Advantages
- Prevents splashing
- Provides privacy