How to choose this product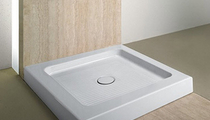 ArchiExpo displays shower trays according to several criteria:
- shape (round, square, rectangular, corner, etc.)
- material (natural stone, ceramic, porcelain, wood, synthetic concrete, steel, copper, stainless steel, slate, travertine, etc.)
- technology (recessed, with runoff channel, modular, etc.)
Applications
The shower tray is a basin facilitating the collection and evacuation of the water, generally in a home or public bathroom. It can be square, rectangular, quarter-round, etc., and can sit on or be set into the floor.
Technologies
When the tray sits on the floor, only the drain is recessed. However, the entire unit can be recessed into the floor. To avoid digging up the floor, the tray can be elevated on blocks. The raised sides may then be tiled.
How to choose
Choice of tray will depend on shape, size and material. Other criteria include aesthetics, the technical constraints of the space and the needs of its users.
Advantages
- More compact than a bathtub
- Economizes water and energy