How to choose this product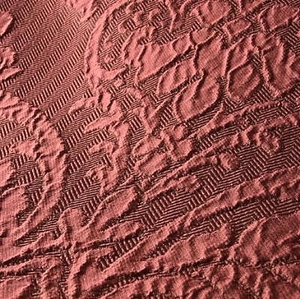 Silk fabric is a cloth produced from weaving threads of natural protein produced by insects such as the silkworm. It is available in a number of textures and varieties. Chiffon is a fine, sheer cloth. Jacquard silk is made on a jacquard loom to produce complicated or raised motifs. Tussah silk is composed of short fibers). On ArchiExpo, this material is arranged by properties including use and motif.
Applications
This material is used for upholstery, drapery or clothing. While very durable, it readily absorbs moisture and is prone to staining. Silk is insulating and hypoallergenic, making it particularly suitable for seating upholstery. Silk is found in high-quality drapery and wall coverings. Its reflective properties can be used to filter natural light and create a unique interior ambiance. However, strong sunlight may cause fading or damage.
How to choose
Choose a fabric suitable for the intended use. Silk is very strong, hypoallergenic, dirt-resistant and offers tactile comfort. It is also very attractive and available in many colors, textures and opacities, making it an ideal finish for upholstered furniture or drapery. However, maintenance can be difficult in high-traffic settings, as it is prone to staining.

Determine ease of replacement in case of damage when used for upholstered furniture. Less expensive, more easily replaced alternatives or higher quality silk may be more appropriate where use is intensive.