How to choose this product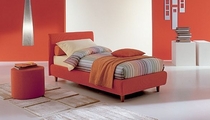 A single bed, designed for just one person, usually measures 100 x 205 centimeters (for a mattress of 90 x 190 cm). However, some are 100 x 215 cm (mattress: 90 x 200 cm), while others are 130 x 205 cm (mattress: 120 x 190 cm). ArchiExpo offers many models, organized by type, including loft, fold-away, canopy and elevating, or by style, such as classic, traditional, contemporary and design.
Applications
These beds are found in homes, hotels, hospitals and other venues.
Technologies
Single beds may include such features as wheels, elevating head, built-in storage or integrated nightstand, among others.
How to choose
Choice will depend on comfort, size, model, materials and finish. Space considerations may encourage selection of a model with storage for bedding, a built-in dresser or similar features.