How to choose this product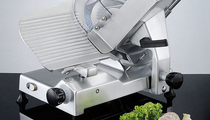 A slicer is used for cutting different food into pieces with a fixed thickness and/or pattern. This may be to ensure even cooking or to enhance attractiveness. On ArchiExpo, these devices are arranged by properties such as use (e.g., for bread or vegetables) and type.
Applications
Slicers are used at home, as well as in restaurants and delicatessens to reduce food preparation time.
How to choose
Consider the type of food products to be cut and whether the slices leave the machine in an ordered manner. For example, bakeries need a fast slicer capable of cutting an entire loaf at once while keeping the slices aligned for easy packaging.

Determine the range of slice thickness adjustment. Check the speed, volume and the quality of the cut. Some slicers have a built-in blade sharpener or several blades for different types of cutting. Evaluate maintenance requirements, ease of cleaning, energy efficiency and the terms of any guarantee or warranty. Verify safety features such as finger guards, safety switch or a non-slip base.
Advantages
- Uniform slicing
- Saves time