How to choose this product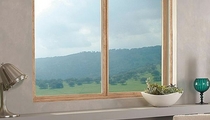 A sliding window consists of a fixed pane and a movable pane, which slides along the stationary element. It occupies no interior space when opening or closing, but is difficult to wash from the inside.
Applications
Sliding windows are common in homes and businesses.
Technologies
These windows have frames of wood, aluminum, PVC or a combination. For example, corrosion-resistant aluminum can be used for the outside of the frame, while wood forms the inside, retaining interior heat.
Disadvantages
- Hard to wash