The Online Architecture and Design Exhibition

slate wallcovering
ARDOISE - ANKARA
Made from slate, the natural Stoneleaf slate decorates your interior and your exterior with elegance. To equip your interior and exterior walls, floors, ceilings and furniture, the Stoneleaf slate is set on fiberglass in order to guaranty ...
See the other products
StoneLeaf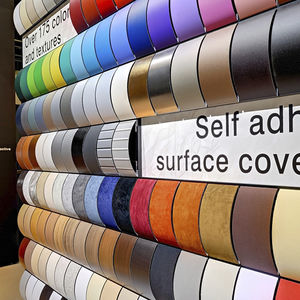 vinyl wallcovering
MILAMENT®
milament series 1,000 - 4,000. There are 66 neutral, muted and brilliant colors, as well as the metallic look. The films have a permanent self adhesive backing. Width of 1020 mm 0.20 Mm thick Roll length 25 m Flame retardant to DIN 4102 ...
See the other products
MBA-Design & Display Produkt

fabric wallcovering
BLANKET YARN & STITCH™ by David Rockwell
... texture handsomely pairs a warm, comfortable aesthetic with clean, tailored design. Durable, genuine wool blend fabric wallcovering is offered in two embroidery patterns—Yarn & Stitch™ and Zig‑Zag™. Treated for stain ...
See the other products
Maya Romanoff

concrete wallcovering
BATHROOM FURNITURE
Interior and exterior floors, walls and objects Manually smoothed to give the material various aspects 71 mineral colours For all sound and rigid surfaces: tiles, cellular concrete, chipboard, plasterboard, concrete, etc. 2 mm thick No ...
See the other products
Marius Aurenti

textile wallcovering
NEVERENDING STORY
Building or renovating a clinic offers an opportunity to change the culture and procedures of the enterprise, thereby maximizing return on invested capital. Clinics that appeal to the body, spirit, and soul offer patients a multi-faceted ...
See the other products
tela-design

vinyl wallcovering
SILK ROAD - 7562
Color Buff Bolt Size 30 Yard Bolts Minimum order 15 YARDS Order increment 15 Yards Width 52-54 Inches Untrimmed Fire Rating ASTM E84 Class A Maintenance Type II Washable Shipping Class B Horizontal Repeat n/a Vertical Repeat n/a
See the other products
Phillip Jeffries

polyester wallcovering
STANDARD
... schools, stores, airports, offices, etc.). CLIPSO panels are polyester screen coated with polyurethane, a highly resistant, smooth and even material, very thin (0.3 mm) and light (200-300 g/m2). Available in wide ...
See the other products
CLIPSO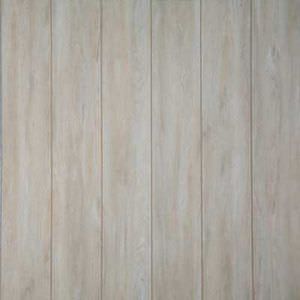 wooden wallcovering
LILY MIST
Size: 5/32" x 48" x 96" Category: Decorative Available At: The Home Depot Merchant Item #: 969589 Substrate: MDF UPC: 0-81999-55767-6 Certifications: SFI* and ECC* Mobile Home: No
See the other products
Georgia Pacific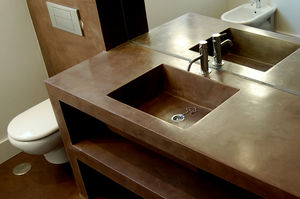 concrete wallcovering
NOTTE : TRAMONTO
Microcemento® is noble and versatile and enables you to create distinctive spaces covering floors and walls uniquely. Applying Microcemento® confers quality and distinction on spaces and the product's ductility makes it applicable vis-à-vis ...
See the other products
topcret, s.l.

vinyl wallcovering
QUADRATO
Vinyl wallcovering with square-design and metal-like surface. Its texture is done in hot embossing. Inspiration for the QUADRATO were old, irregularly primed walls and gold leaf walls. Flame- retardant Composition: Width: ...
See the other products
SAHCO

home wallcovering
SPOT ON WAVES
... dots punctuate the large smooth waves of reflective ink that travel across this fibrous wallcovering. An exciting experiment in scale, colour and texture." – Jordan Mould Collection Kirkby Design ...

fiberglass wallcovering
LE•COVER
Range of walcoverings for the renovation of uneven surfaces like fiberglass wallcoverings, plaster, wood panels, etc. LE•COver - universal Item no.66100 Composition: Non woven fiberglass with mineral coatings. Fire ...
See the other products
LECO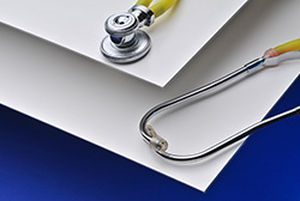 PVC wallcovering
MARVEC FS BIO
An innovative antibacterial technology in Marvec FS Bio, PVC sheet is setting standards in hygienic cladding. The antibacterial active ingredient is a silver glass matrix which provides dual biostatic and biocidal action and is 99.9% ...

wooden wallcovering
GVS-474-16
Decapato Green habitat proposes new Boiserie to match the meadow. Applicable in anycontext: Residential; Commercial or Contract, the Green Habitat finishes will immediately createrefined and design environments, using the NATURE charm.
See the other products
green Habitat

Full Panels 30″ width, 28″ recommended usable; 9′, 10′, 11′ and 12′ lengths Symmetric Block Rectangles 9″ x 29″ 14″ x 42″ 18″ x 29″ Squares 14.5″ x 14.5″ 29″ x 29″ Minimum Order: 100 ft2

A newly finished wall with a simple structure and infinite possibilities ADVANTAGES Dry and fast wall finishing Also suitable for renovation and remodelling projects Durable materials EXECUTION Anodised aluminium profile (21 mm thick) ...

WIDTH: 132-137CM ROLL LENGTH: 27.4LM TYPE: FABRIC-BACKED VINYL WALLCOVERING FIRE RATING: CLASS 0 & 1 TO BS476, PARTS 6&7, B-S2,D0 TO BS EN 13501, CLASS A (ASTM E-84).
See the other products
Seltex

vinyl wallcovering
OPIRE: CAYMAN
Pattern Color: OPIRE/CAYMAN Type: II Weight: 21 oz Width: 54 Pattern #: USV2-OPR-08 Repeat: N/A Random: YES Reversible: YES Packaging: 50 LY Backing: SCRIM Embossing: HONEYCOMB Ratings: CLASS A, ASTM-E84 Certifications: CAL1350 LOW VOC Price Code: J
See the other products
USVINYL

polycarbonate wallcovering
We have a wide range materials suitable to cover requirements in all application areas, such as hospitals, hotels, restaurants, old-people's home , food and pharmaceutical industries, etc. We have PVC, acrylic, polycarbonate, polyethylene, ...

fiber-reinforced concrete wallcovering
SILBONIT PER INTERIOR DESIGN
Born to be applied in external facade cladding, Silbonit panels also have many uses in internal environments. Natural raw materials used in production processes give the boards a special shape thanks to which they are greatly appreciated. ...

natural cork wallcovering
PRIMECORK
... it compatible with every decoration style, from the modern to the very traditional. This natural skin of silky touch, and smooth and unobtrusive aesthetics, makes beautiful timeless walls.
See the other products
Muratto

tertiary wallcovering
QUASAR
Quasar is a high-tech granite made from natural raw materials. A complex thermo-molecular process is used to create a stone with a stunning high-gloss, pure white surface and technical properties which open up entirely new dimensions. ...

Colored glass panels for wall coverings. The extraordinary quality of glass is easily available with the SHOCK series of panels. ARTELINEA's vast experience has enabled SHOCK to be developed, creating panels with highly aesthetic results ...

wooden wallcovering
GOLDDECOR JULIA
Simple and effective! Anyone looking for a simple wall-panel solution can just affix a second upper border on the wall and paint everything in the same color, transforming the high baseboard into wall paneling. The baseboard is available ...

Gordon is an award winning manufacturer and provider of solutions for specialty interior finishes. Gordon Wall Systems are designed and engineered for easy installation, high durability, and fabricated to your specific design requirements. METALS Gordon ...