Soap dispensers
How to choose this product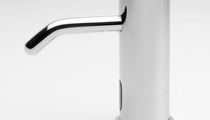 A soap dispenser delivers liquid soap in small quantities via a manual or an electronic pump activated by a light sensor. Home versions are often small, portable bottles. Commercial models are typically wall-mounted refillable boxes with soap delivery controlled by a lever or a light sensor. Some take the form of a tap, which allows excess soap to fall directly into the sink, preventing extra mess.
Technologies
Soap dispensers are often made out of hygienic and easy to clean materials such as stainless steel and plastic. They may be opaque or transparent, the latter allowing the user to see how much soap remains in the machine.
How to choose
Be sure the dispenser is installed above or next to a sink and is easily reachable. Consider ease of use and whether it can take products of different viscosities. Soaps of thinner consistency may project from the pump and make a mess.

The dispenser may be chosen to match a specific decor or color. It may be portable or built into an existing sink. Other factors include ease of cleaning and maintenance, refilling frequency, sturdiness and the details of any guarantees or warranties.
130 companies | 609 architectural and design products
1 products Rocky Mountain Hardware
2 products Lladró Comercial
Filter by :
› New products

(9)

› Products with video

(15)
Extend the search
Search by manufacturer
Search by catalog
Associated Terms
design soap dispensers