How to choose this product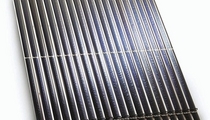 A solar collector absorbs and transfers solar energy to the liquid flowing within it. Its configuration and surface characteristics enable it to use solar radiation to heat water. Most collectors are flat-plate devices.
Applications
Most solar collectors are used to heat water for domestic or swimming pool use.
Technologies
Collectors differ with specific use. Thermosyphon systems are common in residential water heating. Flat-plate collectors have residential and pool applications. Evacuated tube collectors can heat water or living space, while plastic collectors are used for swimming pools. Industrial installations often use parabolic mirrors to heat water in a cylindrical collector.
How to choose
Choice of collector will depend on amount and use of the water to be heated, space available for the installation, system efficiency and cost.
Advantages
- Saves energy
- Long-term economy
- Environmentally sound
Disadvantages
- Initial cost
- Space requirements
- Aesthetics