How to choose this product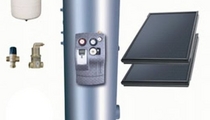 Solar water tanks are connected to a solar energy collection system to provide hot water for bathing and other purposes. There are three different types:

- Monobloc systems include a reservoir and solar thermal collectors in a single unit, usually installed on a rooftop.

- Thermosiphon tanks are located above the collectors, the hot water rising into them naturally, without need for a pump.

- Electric pump systems require a pump for water circulation.
Technologies
These tanks operate in conjunction with thermal solar panels. They can provide between 50% and 80% of daily needs, depending on model and climatic conditions. Uninterrupted hot water supply is ensured by a gas or electric booster.
How to choose
Tank and collector dimensions must be suitable for daily requirements and local insolation.
Advantages
- Energy savings
- Non-polluting