How to choose this product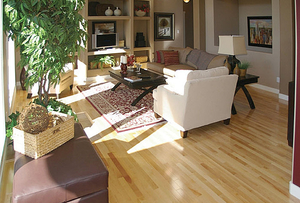 A solid hardwood floor uses natural wood through its entire structure. As a result, it can be refinished many times, extending its useful life. Board thickness is the only limiting factor. Such flooring is usually supplied unfinished or varnished. In some countries such flooring is called "parquet," while in others (e.g., Germany), this term refers only to patterned floors composed of wood squares.
Applications
This flooring is commonly used in any room of a dwelling.
Technologies
Traditionally, this flooring is at least 23 millimeters thick and is nailed to joists. Very robust, it can be refinished several times. Thinner versions, 10 to 15 mm thick, may be used for remodeling, including installation by gluing. Some types can be laid over radiant floors.
How to choose
Flooring thickness will determine the number of times it can be refinished. Choice will also depend on wood species, its colors, grain and other characteristics. Maple, mahogany, pine, cherry, walnut, oak, jatoba, merbau and other woods can be used for flooring. Maintenance requirements, proper drying and local practices also should be considered.
Disadvantages
- Expensive