Solid wood kitchens
109 companies | 687 products
How to choose this product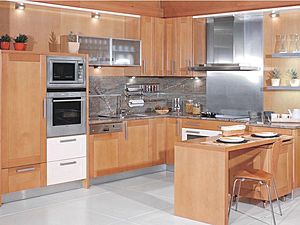 The solid wood kitchen is extremely durable and of very high quality. It meets the requirements of the most demanding consumers, but is more expensive than other kitchens. It should not be confused with laminate or wood veneer construction. These may resemble sold wood, but are of inferior quality and durability, and require more upkeep.
Applications
Kitchens are used to store and preserve as well as to prepare food, which can also be consumed on counters or individual tables.
Technologies
In addition to oak, teak, walnut and cherry, kitchen manufacturers also use birch, cedar, maple, ash, beech, pine, pear, linden and bamboo.
How to choose
Choice will depend on the cabinet tone desired, including light, dark, caramel and burgundy. Other factors are budget, durability, available space and overall configuration, e.g., with or without an island. Softwoods are less expensive than hardwoods because the trees grow faster and the wood is easier to work, but they are less durable.
Advantages
- Great diversity
- Durable
- High quality