The Online Architecture and Design Exhibition

COFFEE TABLE/STOOL Solid wild oak coffee table cm.25x25x46h Finishings Top: solid wild oak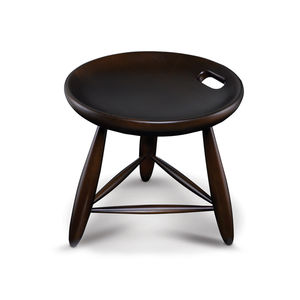 Frame and seat in solid beechwood in 5 different tones with varnish finish or in solid Imbuia wood with clear varnish or oil finish.
See the other products
LinBrasil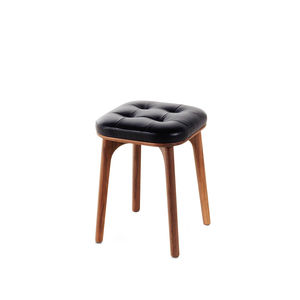 contemporary stool
UTILITY by Neri & Hu
CODE: UT-S610-460 MATERIAL: Solid wood legs, Plywood panel, Upholstery DIMENSIONS: W350 x D350 x H460mm Seating height: 460mm

contemporary stool
ASTROID WAVE SL
This stool is inspired by the ASTROID WAVE lamp. Bimaterial wood and fabric, it can also serve as side table. All stools are reinforced with fiberglass and resin. The ...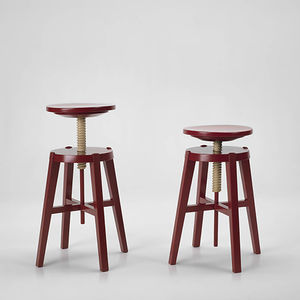 Solid wood chairs, upholstered or padded with fine fabrics, available in a wide range of colours, complete L'Ottocento's furniture range for the kitchen and living area. Always celebrating the brand's craftsmanship.

traditional stool
T-BONE K47 by bOb Van Reeth
... the outcome of a detailed study of forms leading to sculpted flared legs which add an overall sense of lightness to the solid wood chairs. Thanks to the cohesive proportions and meticulously thought-out ...
See the other products
De Zetel

contemporary stool
CHARLOTTE
... FEATURES This stool is structured with solid wood and upholstered with soft velvet and polished brass rings. The base is finished with walnut wood veneer. PRODUCT ...
See the other products
By Swans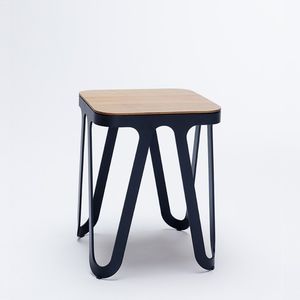 contemporary stool
LOOP by Sebastian Scherer
The Loop Series is based on the concept of folding two-dimensional figures into three-dimensional objects. Characterised by the rhythm of its forms, the series infuses organic construction with a futuristic feel. The tips of the lightweight ...

contemporary stool
ST02 TERA
... Available in oiled solid oak wood. Other types of wood and finishes on request. The L- and X-modules can also serve as a base of coffee table with a matching circular plate in glass or ...

contemporary stool
ORIENTE : MILK
... Materials: Natural Patagonian wood with polyurethane finish. Color: Natural wood and white Shipping: krethaus@krethaus.com Descriptions: We all want to have one! This strong stool is ...

contemporary bar stool
SCREW BENCH
Stool Screw bench is the basis of the MINT collection design. It is marked by slanted MINT lines, quality of natural solid wood and modularity of the height adjustment. Screw stool ...
See the other products
Mint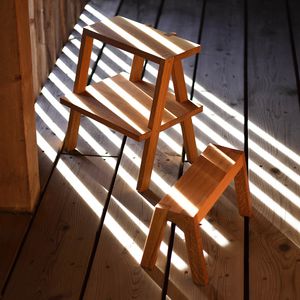 contemporary stool
AEKI by Gerhardt Kellermann
our stools AEKI und "Little Brother" were both designed by Gerry Kellermann and they form small family. So we created one offer with a family-friendly pric Weight 9.5 kg Dimensions 30 x 30 x 30 cm

contemporary stool
CARICA by Sérgio Gomes
|CARICA stool | Ash Olivato Solid Wood, matt varnish||top lacquered|

contemporary bar stool
JL4 by Julian Löhr
... is interpreted a modern way. All Faber products are made entirely from solid oakwood and are characterized by their iconic three-legged frame. The family includes a stool, bar stool, ...
See the other products
LOEHR

Gustavian style stool
GUS 020
Hand carved and hand painted Solid wood, FSC certified teak Available in a choice of colours and finishes STYLE NUMBER GUS020 SIZE H18 × W17 × D16 ″
See the other products
CHELSEA TEXTILES

traditional bar stool
OMEGA by Factory design
omega is an archetypical bar stool. and has been well-tried for decades. In the puristic architecture and objectivity of historic hotels it exudes an atmosphere. omega was created as the essence of numerous of its predecessors. ...
See the other products
ag möbelfabrik horgenglarus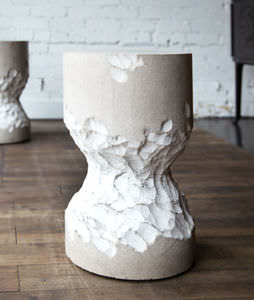 The Castor Stool is hand-carved from a single piece of limestone resembling a gnawed tree. This stool is a solid block; ideal for inside or outside.

contemporary stool
FST0092
STOOL 39x45x28cm Oryginal stool, natural hand brushed solid wood in white. Timeless materials. Handcrafted in Poland. Stamped with Gie El logo. Designed to ...
See the other products
Gie El

original design stool
POMPON STOOL NO.1
... Everything is entirely made in Germany and manufactured completely by hand. Measure of this wooden stool is: seating height 48cm, seating depth and width 50cm. Total weight is about 10kg. This object ...

original design stool
LINE MÉDIUM

contemporary bar stool
EMMA by Paolo Favaretto
... well-defined lines, Emma is a solid oak or beech chair that is also available with an upholstered panel. The stool version has a more minimal seat and can also be upholstered. Description Chair and ...

contemporary stool
MONARCHY by Yiannis Ghikas
... the "Monarchy" stool (it looks like an inverted crown) follows your body's movements. As a desk companion or as an occasional seat for dining room, it is the classic solid wood stool ...

original design stool
MORDIMI by Luca Pegolo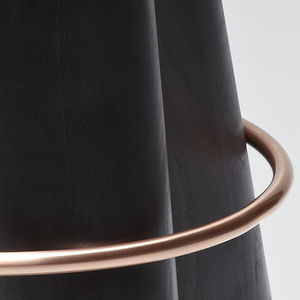 original design stool
BOLT by Note Design Studio
... maybe the most iconic stool of the collection. Its unique silhouette is highly recognizable with his 4 solid logs elegantly held by a contrasting metal ring. Bolt is a paradoxe: brutal and very refined ...
See the other products
LA CHANCE

contemporary bar stool
KALOTA by Redesign
Two types of barstools with distinctive characters, both suitable for home and contract use. The hollow space beneath the round upholstered seat allows the elastic webbing to flex when sitting, adding an even greater element of comfort.
See the other products
MITJA