How to choose this product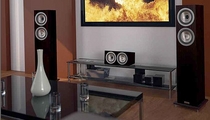 A speaker may be designed for use in different interior or exterior environments and for different purposes. Some are intended for home use, while others are for large public venues. Whether for carrying speeches, providing surround sound for home cinema systems or for live music performances, a speaker may be wall-mounted or built in, hung from a ceiling, portable, freestanding or table top.

On ArchiExpo, such devices are arranged by type of installation (e.g., wall mounted) or use (e.g., home cinema system).
Technologies
Speakers commonly contain drivers which process different sound frequencies, from low to very high. These include sub-woofers, woofers, mid-range, tweeters and super tweeters.
How to choose
Ensure the speakers are suitable for the intended use, considering size of the room, the frequency range, the number and placement, as well as sound clarity.

Speaker arrangement is particularly important for live music performances or surround-sound cinema systems which coordinate sound and action to immerse the viewer in the film. Speakers designed for professional environments must comply with applicable building codes, especially those concerning fire safety and security.