How to choose this product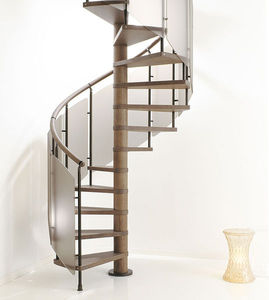 A spiral staircase consists of treads attached to a central pillar. It usually has a diameter of about 1.6 meters. Some have an additional, lateral support running along the outer edge of the treads.
Applications
These staircases are common where space is limited. They are sometimes used as emergency stairways, since prefabricated modular versions are inexpensive and easy to install. However, certain countries prohibit such use.
Technologies
Spiral stair treads and supporting elements can be made of wood, glass, concrete, steel and other metals, and even marble. Combinations of these materials can be used to create any desired look.
How to choose
Choice will depend on size and materials, which can be combined to produce a traditional, rustic look or one that is light and modern.
Advantages
- Saves space
- Preserves luminosity
Disadvantages
- Inconvenient to use