How to choose this product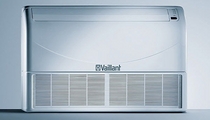 The split-system air conditioner uses separate interior and exterior elements, reducing interior noise. The exterior unit can abut a wall or be placed on a roof, a terrace, etc. The interior unit is mounted on a wall, in a ceiling or another location. ArchiExpo offers a wide selection of models: floor standing, wall-mounted, cassette, ceiling, etc.
Applications
These appliances may be split or multi-split. It is used in many different settings, including dwellings and offices.
Technologies
This is one of several types of individual air conditioner, as are monobloc models. It comprises an interior air-treatment component with evaporator and centrifugal blower, and an exterior unit holding the compressor and condenser.
Advantages
- Less noisy than a monobloc installation
- Some are reversible
- Temperature and humidity control
- Inverter option