How to choose this product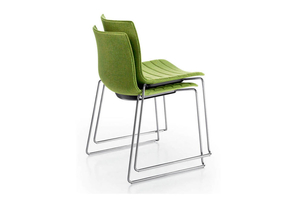 Stacking chairs are made by an enormous number of manufacturers in numerous configurations and from a variety of materials. Today, most design chairs are also available in stackable form.
Applications
These chairs are very well suited for furnishing waiting rooms, conference and multipurpose centers, dining establishments, hotels and other public settings. They also are used for visitor seating in offices, on terraces and in venues where space is limited. Their lightness makes them easy to put in place and rearrange.
Technologies
Numerous different materials are used, especially those conferring lightness and ease of handling. These include polyurethane, polypropylene, polycarbonate, metal and even wood. Versions inspired by Charles Eames creations of the 1940s are made in a single, ergonomic piece which envelops the user.
How to choose
Though originally conceived to save space, the wide range of colors, forms and materials has extended the popularity of these chairs far beyond the advantages of simple practicality. Choice will depend primarily on application and frequency of use. Comfort may play a lesser role for chairs used only occasionally. Those employed on a daily basis should be both ergonomic and aesthetic.
Advantages
- Light
- Easily to move
- Multipurpose