The Duet Stool presents a harmony of versatility and beauty. Its blend of inviting timber or upholstery seat with a gracefully slender base enables options for both indoor and outdoor settings. The gently radiused curve ...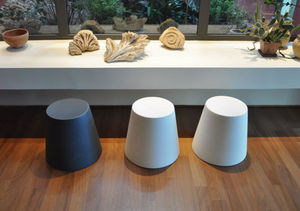 contemporary stool
ALI BABA by Giò Colonna Romano
SLIDE introduces Ali Babà, a stool with an extremely linear shape, suitable for every kind of environment. Made by means of the rotational moulding system, Ali Babà features an innovative technique: polyethylene is worked ...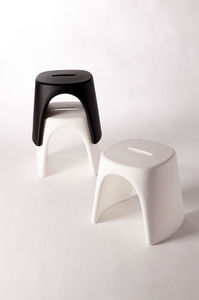 contemporary stool
AMELIE by Italo Pertichini
Italo Pertichini designs for SLIDE, Amélie Sgabello, a stackable stool with beautiful, fluid lines. The added, innovative benefit of stackability solves all space-related problems, increasing ...

contemporary stool
STICK by Luigi Baroli
A stool with essential lines, offered in a low version, practical for stackability, and in two tall versions, which are particularly solid thanks to the metal belt joining the legs. In semi-evaporated ...

bar stool
CHIP by Antti Kotilainen
Inspired by the sea in motion, Finnish designer Antti Kotilainen created CHIP with graceful lines and rhythmic curves suggestive of a cresting wave. The seat form is achieved by laminating 27 separate sheets of birch, and is supported ...

Year of production: 2006. Material: legs in anodised aluminium or painted in polyester powder. Seat in die-cast aluminium treated with sputtered fluorinated titanium and painted in polyester powder. Suitable for outdoor use. Flame-retardant.
See the other products
MAGIS

Year of production: 2005. Material: frame in steel tube, cataphoretically-treated and painted in polyester powder. Seat made of polyamide slats. Standard injection-moulded. Suitable for outdoor use. ADI Compasso d'Oro 2008 nomination
See the other products
MAGIS

contemporary stool
NOM by Ran Amitai and Gilli Kuchik
NOM is a series of stackable furniture. Each object is folded from a spread of laser cut aluminum sheet, which then bends to the final form using a bending mold. The concept of the project is to combine straight origami ...

bar stool
ALODIA by Todd Bracher
Stackable stool created in metal tube and steel sheet, seat laser cut, feet in black plastic. Available in two heights, it is offered in matt paint mustard, blue, green, white and anthracite colors.

Here we have a small and versatile stool which is easily accessed and ready for impromptu meetings at workstations, or good simply as extra seating in meeting rooms or lounge environments. Cap has a straightforward, ...

bar stool
FRISBEE by Christian Halleröd
A stool – perfect for breaks, short visits or after work. The Frisbee stool comes in three versions. The low one, which is also stackable, is used with tables of normal height, the medium ...

bar stool
PLEKTRUM by Sandin & Bülow
The shape of a guitar plectrum has given this stackable stool its characteristic appearance and name. The turned-up back edge of the padded seat gives a feeling of support and in addition offers somewhere ...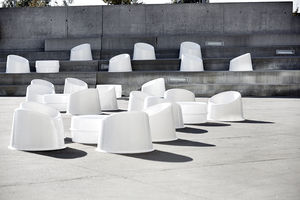 Description Stacking chair. Can be used out door. Material ASA material UV stabilizer added.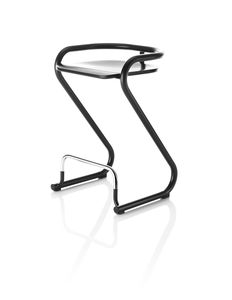 bar stool
S70-3 by Börge lindau & Bo Llindekrantz
... mm chromium plated or powder coated steel tubing. Footrest always in chrome. Seat of plywood with birch veneer alt. lacquered in black, white or grey. Other colours on request. Upholstered seat. Stackable.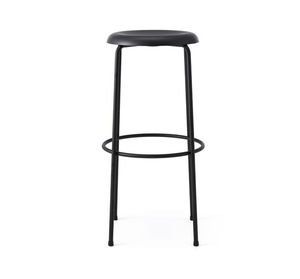 bar stool
TABURETT by Edvin Stähl
... or orange ABS plastic alt. upholstered. Embossed seat detail of powder coated or chromium plated die-cast zinc. The stool is stackable.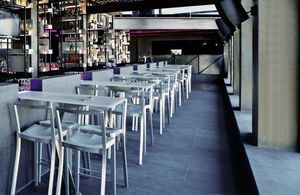 bar stool
ICON : ICONBAR 30P
Icon is a stacking chair cousin to the famous Starck designed Hudson chair. It has been used in hotels, bars and restaurants worldwide, as well as training centers, meeting areas and schools. Starck describes Icon as ...

bar stool
STACKY by Josep Lluscà
... and functional element capable of becoming the focal point of any area. HIGH (75 cm), MEDIUM (65 cm) and LOW (45 cm). The stool is manufactured in 3 different heights, and can be stacked to facilitate storage and handling. In ...

bar stool
HM58 : J by Matthias Demacker
A versatile chair for commercial and leisure environments, hm58 is available with either a chrome-finished stacking skid, four-leg base, or 4-star swivel base and with optional armrests. The hm58a can be stacked 10 high ...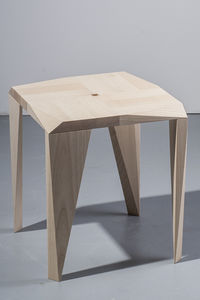 contemporary stool
HORATIO : 815 by Aleks Komel
Stackable stool octagonal in hardwood, the products are stacked with a simple rotation of the articles.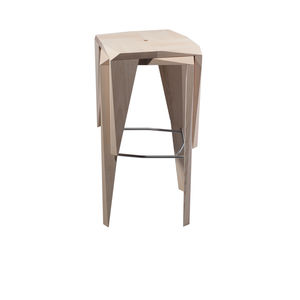 bar stool
HORATIO : 818 by Aleks Komel
Stackable stool octagonal in hardwood, the products are stacked with a simple rotation of the articles.

contemporary stool
LES COPAINS by Kati Meyer
Airy companions in a minimalistic yet elegant format. Filigree but durable and with decorative handmade wickerwork. Individually composed using unique materials and details. Available with four distinctive backrest designs: medium, ...

contemporary stool
PIERRE IST EIN MENSCH

contemporary stool
BIRD-7 by Yrjö Wiherheimo & Pekka Kojo
The base is made of Ø 19 mm steel tube, the seats are made of form pressed laminated wood with or without upholstery. Measurements: Bird -7, w 380 x h 450 x d 340 mm.

contemporary stool
CAESAR by mottoWASABI/Yuki Abe
... chromed. Seats in 6 mm solid laminate, or wood veneer. The stackable Caesar is available either uncovered, seat & back covered or with seat only covered. Measurements: Caesar-1B low table/stool: w ...

... flat synthetic fiber made of high density polyethylene (HDPE), 6 mm/0.24 wide. The legs are made of satin stainless steel. Stackable collection.

bar stool
ST10 JEAN by Stefan Diez
... profile, which acts as a foot rest and gives the stool stability. The bar stool JEAN, made from lacquered oak- or walnut veneered plywood, is available in two heights which makes it suitable for contract ...