Scandinavian design stool
DOT™
The 4-legged stool is available in coloured ash in all colours as well as walnut and beech veneer. It is stackable with a chromed steel tube base.

contemporary stool
COMFORT
... durable ergonomic seating with the Comfort Stacking Stool, designed with the human body in mind. Featuring a durable one-piece black plastic shell attached to a powder-coated silver steel base, this sturdy ...

contemporary stool
CIRCULATION
The sleek design of the Circulation Stacking Stool features a breathable perforated polypropylene seat and back, contoured for natural support and comfort. Seat (29"H x 17.75"W x 18"D) features a 16° ...

contemporary stool
TABURETT by Edvin Ståhl
... 282 stool, designed by founder Edvin Ståhl. A true industrial masterpiece, Taburett wears its modernist mantle well, closely following the Modern Movement rule that "structure and function are revealed simultaneously". Taburett ...

Scandinavian design stool
TATTOO by Gert Wingårdh
Tattoo stool is a neat, light, stable and stackable stool with beautiful and playful carvings, available in a three- or four-legged version. The wholes made in different shape through ...

contemporary stool
SKANDINAVIA KVJ6 by Kari Virtanen
MATERIALS birch, ash, oak, plywood SURFACE FINISH waterbased lacquer or natural oil mixture DIMENSIONS Width 385 mm Depth 385 mm Height 450 mm

contemporary stool
SEMINAR KVJ1 by Kari Virtanen
Materials ash, birch, oak, black alder Surface finish natural oil mixture Dimensions Width 350 mm Depth 350 mm Height 440 mm

... you: Snoop is a solid, rotomoulded polyethylene stool. But, a closer look reveals its triple identity, which transforms it into small table with two built-in pockets to hold magazines, or into a stackable ...

bar stool
HOC by Jehs+Laub
... The sculptural stool features offer flexible seating and strengthens the back. Three identically shaped pieces of molded wood combined with an elegant sweep to form a seat: that's hoc, the modern interpretation of the ...

Here we have a small and versatile stool which is easily accessed and ready for impromptu meetings at workstations, or good simply as extra seating in meeting rooms or lounge environments. Cap has a straightforward, self-explanatory ...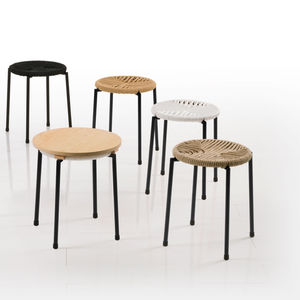 contemporary stool
LES COPAINS by Kati Meyer-Brühl
... and small (without armrests). The frames are black powder-coated, galvanised or made from chrome or stainless steel. Here: stool and chairs small, low and medium, matched with a les copains plywood table.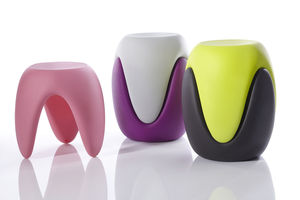 organic design stool
BABY BITE
Baby Bite is a zoomorphic object. It is a stool, a side table or a table base, all in one. Like a children's game, they fit into each other and thus create new shapes.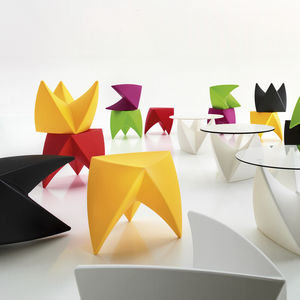 original design stool
MR LEM by Moredesign
... encounters functionality: Lem, inspired by the shape of the first spaceship that ventured to the Moon, is a very peculiar stool/ small table. If turned upside down, it turns into a comfortable table and when stacked, ...

contemporary stool
BIMBO by Peter Brandt
Bimbed is a table/stool of compression moulded wood. A cut out hole, placed at the short side, makes Bimbed easy to move around. Bimbed is perfect as a bedside table and can be used together with Bimbo and Bimbord as ...
See the other products
Blå Station

contemporary stool
DUNDRA by Stefan Barselius
... it was friendly and inviting. Then we launched the first Dundra chair, bar stool and bar chair in 2011, and now were adding a stackable sofa, an armchair and a stackable stool. ...
See the other products
Blå Station

contemporary stool
PIERRE IST EIN MENSCH

contemporary stool
ALI BABA by Giò Colonna Romano
SLIDE introduces Ali Babà, a stool with an extremely linear shape, suitable for every kind of environment. Made by means of the rotational moulding system, Ali Babà features an innovative technique: polyethylene is worked ...

contemporary stool
AMELIE by Italo Pertichini
Italo Pertichini designs for SLIDE, Amélie Sgabello, a stackable stool with beautiful, fluid lines. The added, innovative benefit of stackability solves all space-related problems, increasing ...

contemporary stool
BIRD-7 by Yrjö Wiherheimo & Pekka Kojo
The base is made of Ø 19 mm steel tube, the seats are made of form pressed laminated wood with or without upholstery. Measurements: Bird -7, w 380 x h 450 x d 340 mm.

contemporary stool
CAESAR by mottoWASABI/Yuki Abe
... chromed. Seats in 6 mm solid laminate, or wood veneer. The stackable Caesar is available either uncovered, seat & back covered or with seat only covered. Measurements: Caesar-1B low table/stool: w 380 ...

contemporary stool
A by Koizumi Makoto
W470 D450 H430 SH410 (mm) We think you can imagine the origin of this stools name. Because when you see the legs, you can find the shape of A very easily. You can stack these stools, so it is very useful.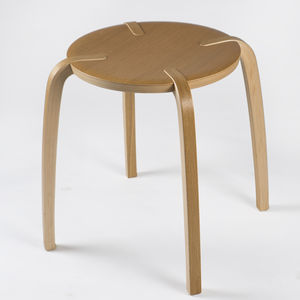 contemporary stool
DISCUS by Sven Ivar Dysthe
MATERIAL FORM PRESSED PLYWOOD STACKABLE 11PCS FINISHES BIRCH BIRCH WITH PAINTED SEAT

Durable high performing chair and stool, ideal for indoor or outdoor use Innovative chair form for easy stacking UV-resistant colours Strength tested to EN 581(Safety) and EN 582(Structural) for Contract ...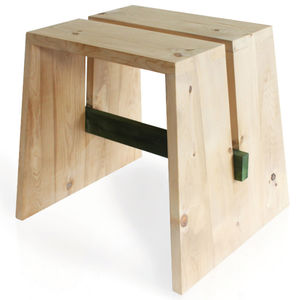 contemporary stool
STACK by Luca Pegolo

bar stool
PURE LOOP MINI by Claus Breinholt
Stackable rod stool frame with polypropylene "mini" shell. Also available with shell upholstered in leather, eco-leather or fabric