How to choose this product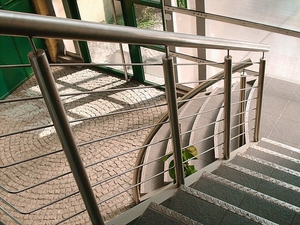 A railing is a light structure installed along the perimeter of elevated open spaces to prevent falls. Stainless steel is frequently used because it resists corrosion and is easy to maintain.
Applications
These structures are used to prevent falls from bridges, stairways, terraces, balconies, lofts, mezzanines and similar areas.
Technologies
A railing consists of vertical support balusters, transverse pieces and a handrail. The handrail sits at a constant, height appropriate for the support of users. The structure may be embedded, attached or braced, depending on the design.
How to choose
Railing height should be sufficient to ensure safety. If the horizontal elements are too low, children can climb over them. If too high, they offer them no protection. Verify compliance with applicable construction and safety regulations.
Advantages
- Corrosion-resistance
- Easy maintenance
Disadvantages
- Subject to scratches