The Online Architecture and Design Exhibition

... total project like a glass dining table with steel base, stainless steel coffee tables, inox glass offices, inox lightning etc With the guarantee and the contribution ...

contemporary table
LUGANO FLAT - 4216/E
Length: 170, 250, 200, 280 cm
EXTENDING TABLE Marble Top with flat edge Wood base wenge matte with stainless steel inserts and platform Available in 2 sizes: 170/250 (2x40cm extensions) and 200/280 (2x40cm extensions)
See the other products
Stone International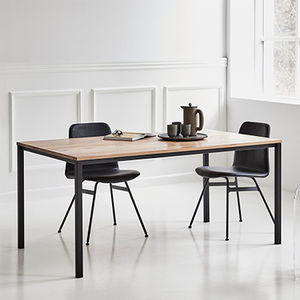 contemporary table
LESS IS MORE by Jacob Plejdrup
Height: 72 cm
Length: 160, 180, 200, 240 cm
Width: 90, 100 cm
LESS IS MORE TABLE was introduced in 2012 as the first thin plank table on the market. The thin but solid table top and the stylish steel frame gives a light expression ...

contemporary table
EXCENTER
table. table top solid wood, multiply or stainless steel mat. table frame stainless steel mat. width of legs and table top is 3 cm. ...

contemporary table
TAVOLACCIO by Tecno Mussi
... The warmth of wood combined with the brightness and novelty of steel. Two concepts only apparently distant from each other, that blend in harmony. Technical Features Stainless steel frame ducal ...
See the other products
Mussi Italy

contemporary table
RONDOUP
Height: 69 cm - 113 cm
Length: 65, 70 cm
Width: 60, 70 cm
Frame consisting of a round, powder-coated central pillar and disc foot with stainless steel cover. Pillar with built-in gas spring and hand-operated switch on edge of desktop. The hand-operated switch ...

See the other products
SC Ecomatrix SRL

contemporary table
MENORAH
... sections. A large section of the Synagogue panelling was in Ash with fittings in stainless steel. Ash was therefore chosen to be the dominant material, with brushed stainless steel used ...

contemporary table
LOTUS by Thomas Merkel
Height: 72 cm
Length: 80, 160, 200 cm
Width: 80 cm
This table convinces by his striking detail which results from the production process: three-dimensional objects made of sheets have open corners. The appeal of the Lotus tables is in the detail. Table ...

contemporary table
ASTOR by Ale Design Studio
Height: 75 cm
Length: 200 cm - 320 cm
Width: 110, 100, 120 cm
Table with 40 mm top in solid oak with regular or natural irregular edges. Top table available also in natural oak or walnut veneer with natural solid edges. Handmade base in mat stainless ...
See the other products
Lestrocasa Firenze

contemporary table
TIFFANY DIAMOND
Series of table bases with Diamond column in methacrylate or chromed ABS and anodized aluminium core. Polished or satin stainless steel base. Table tops available in several dimensions and finishing.

contemporary table
7547SS
Height: 75 cm
Length: 139 cm
Width: 69 cm
... individual pieces, it is crafted from tubular frames which are handmade in either powder coated aluminium or electropolished stainless steel. Additional Information Weight 20.5 kg

contemporary table
WALTER by Walter Hösel
Height: 50 cm
Length: 40, 60 cm
Width: 40 cm
Walter coffe table with four leg frame base in lacquered or chrome steel. Top in satin stainless steel or ceramic.

Height: 104 cm
Length: 119 cm
Width: 60 cm
FOR PLANCHAS 450 / 500 / 600 storage spaces 1 shelf LENGTH X DEPTH X HEIGHT 119 x 60 x 104 MATERIAL 100% stainless steel Easy to move, Height-adjustable feet

contemporary table
STICKS by Toni Grilo
Height: 750 mm
Length: 900 mm
Width: 900 mm
The sticks table has a clear glass top suported by a wood and stainless steel connection frame.

contemporary table
SOLID.NY by Tomek Rygalik
... stateliness. The concrete blocks that serve as table legs and provide its foundation are cast from special concrete that doesn't emit dust. Solid frames made of high-grade stainless steel provide a stable ...

contemporary table
FEERIE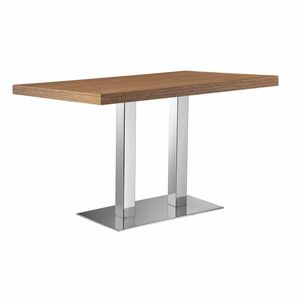 contemporary table
XT 490 Q
Height: 72 cm
Length: 130 cm
Width: 70 cm - 80 cm
Table frame with base cover in glossy or satin stainless steel, column in glossy or satin stainless steel, or wood. Measures Base: 40x75 cm Column: ...

contemporary table
WEIGHTLESS
... Weightless Collection explores ecological principles of resource efficiency. The use of a durable, yet lightweight, recycled stainless steel frame was inspired by the revolutionary Eames' furniture of ...
See the other products
Haldane Martin

contemporary table
SOLITÄR
frame: stainless steel 8 x 8 cm, table top: solid suar approx. 10 cm, each piece is unique

contemporary table
BOTANIC
Height: 75 cm
Length: 90 cm
Width: 90 cm
Round Table with Acrylic Top Dimension : Dia. 90 x H75 cm

contemporary table
BASIC MIRROR
Length: 200 cm
Width: 100 cm
Rectangular dinning or working table Blasted stainless stell frame under the top Black granite top, 2 cm thickness Mirror stainless steel feet, "basic" model Standard dimensions ...
See the other products
FOLIE CONCEPT

contemporary table
2xS45-02-52-TOPSV120x70
Height: 73 cm
Length: 180 cm
Width: 90 cm
Table with two solid steel base. Available base sizes 45 / 50 / 55 / 65 cm. Maximum top size 180x90 cm. Finish; chrome / epoxy painting / stainless steel.
See the other products
Selka-line Oy


contemporary table
AUSTIN L120