How to choose this product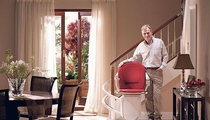 A stair lift is the ideal way for a person with mobility problems to overcome the barrier of a set of steps. An electric motor propels a seat or platform mounted on one or more rails up or down the stairs. The device is activated by switches at each end of the steps or by a remote control on the seat.
Applications
Stair lifts can be installed in both new and remodeled buildings. For example, a home staircase can be retrofitted to accommodate the needs of a senior, an ill person or accident victim.
Technologies
There are two main categories of stair lift, straight and curved. The first is installed on straight, single-flight stairways, while the second is for quarter-, half-turn or spiral staircases.
Advantages
- Silent operation