How to choose this product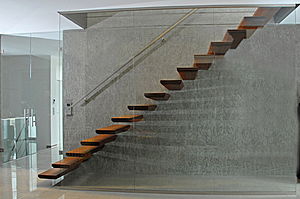 ArchiExpo classifies staircases by configuration, material and style. They may be straight, quarter-turn, half-turn or spiral, design or traditional, of wood, stone or other materials.
Staircases are found in settings as diverse as public open spaces, such as plazas, roadways, parks and esplanades, and home interiors. The range of applications includes apartment buildings, industrial plants, shopping centers, hospitals, schools, etc.
The stringer and supporting structure can be central or lateral. They can be made of iron, wood, steel, stainless steel, concrete or glass.
Choice of staircase will depend on available space, budget, specific use and style.