How to choose this product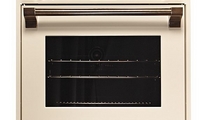 A steam oven uses water vapeur to cook food, which prevents dishes such as fish and meats losing moisture during the cooking process. It may be gas, electric or a combination.

On ArchiExpo, a steam oven may be arranged by properties such as type of use (e.g. professional) or special features (e.g. with built in proofer).
Applications
The advantages of using a steam oven in domestic and commercial cooking is that it helps food such as meat and vegetables retain moisture, flavour and vitamins, reducing the need for additives such as oil and salt.

For food which also needs to be browned such as roasted meats or potatoes, a steam combi-oven may be an appropriate choice.
Technologies
A steam oven may be made out of robust materials such as stainless steel. It normally has a water reserve which needs to be filled to produce steam.
How to choose
When choosing a steam oven, consider the volume and type of food which needs to be cooked, how long the steam oven can be used before filling the water reserve and whether a simple or combi-oven is more appropriate.

Consider whether a gas or electric steam oven is more appropriate considering the energy efficiency, the quality of cooking and how much maintenance is required.

For domestic kitchens, consider how the style of the oven will fit within the existing kitchen.

In professional kitchens the steam oven may be required to cope with more intensive use and so may need to meet higher standards, be easier to clean and more robust.
Advantages
- Does not dry out food
- Reduces need for added salt and oil
Disadvantages
- May not be suitable for crisping or browning