The Online Architecture and Design Exhibition

steel beam chairs
ELEMENT BEAM by Sandin & Bülow
... Element easy chair with its distinct shape is also available as beam furniture. The gap between the seat and the back has several well thought out functions. It provides good sitting ...
See the other products
MATERIA

steel beam chairs
FOSTER DOUBLE
... FEATURES Warranted For Users Up To 525 lbs/unit Clean Out Areas 16 Gauge Tubular Steel Steel Seat Frame with Active Seat Suspension High Density Seat ...
See the other products
allseating

steel beam chairs
PATO by Welling & Ludvik
A beam-seating bench from the Pato series, designed for airports and public waiting areas. Optional upholstery possible on the shells, with floor and wall mountings available for the beam. With the ...

steel beam chairs
1100 TRIO by Robert de le Roi
This chair has a universal talent. It is an all-embracing series. A moulded wooden seat shell, 8 different types of tubular steel frames. A refreshing, young design for bistros and auditoria, ...
See the other products
Kusch & Co

steel beam chairs
OLIVIA by Raul Barbieri
... for waiting rooms features a ganging rail which can be equipped with 2 to 5 seats and tables. Beam in aluminium-painted steel, legs in chromium-plated steel with adjustable feet. The ...

steel beam chairs
PRIMA by Favaretto & Partners
A seating systems that can be extended and customized. Thanks to its unique design it adapts to the flexible, multi-functional spaces hosting many of our day-to-day activities. Steel and wood combine ...
See the other products
LUXY

steel beam chairs
KUADRA XL
Beam sitting structure with three (art. 2606) and four seats (art. 2607) with technopolymer shells available in white, sand, red and black colours; with white or black compact top. Black powder coated steel ...

Chairs with an upholstered shell, that features different frames. They are suitable for use in various ambiences such as waiting areas, home office and meeting spaces, where they fit with stylish elegance. The tubular ...

steel beam chairs
TONICA EASY by Pelikan Design
... arm rests, which can be mounted afterwards. The series can also be mounted on a beam as two, three or four-seaters where arm rests and side tables can be mounted on the beam afterwards. The furniture ...
See the other products
Magnus Olesen

steel beam chairs
TRIENNIAL by Anke Bernotat
... receptions.SpecificationsBrand GispenDesigner Anke BernotatFurniture line Gispen TriennialStock status 7 weeks leadtimeAdditional information Steel frame painted black.The seats can be set up according to your own preference, ...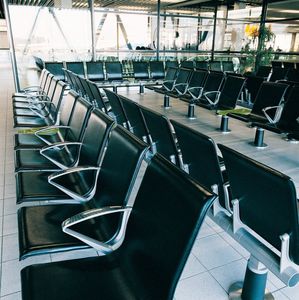 leather beam chairs
RS by Jean-Marie Duthilleul
... furniture and as seating in spaces like airports, underground railway interchanges and bus and tram stations. RS is a modular system of individual seats that can be combined and assembled on bars to form groups of ...

aluminum beam chairs
AIRPORT by Lucci & Orlandini
... dedicated waiting area. Airport can be used for both inside and outside spaces. The materials used, aluminium for the seat and steel for the frame, are resistant and long-lasting, even when exposed to ...

steel beam chairs
GORKA by Jorge Pensi
Beam with sides in powdercoated or polished aluminium, structure in powdercoated steel. Possibility of table in compact resin replacing one seat. Optional shells in polyamide, upholstered polyamide, beechwood ...
See the other products
AKABA

steel beam chairs
YESBOX by Yrjö Wiherheimo
... . YesBox is a versatile, modular armchair and sofa system, where the seating modules (with or without arm rests) are fitted with an individualized base for each seat or with a longer ...

steel beam chairs
AMARANTA by Cappelletti & Pozzoli
... colors of CPF) Not covered: LAC glossy lacquered Semi-covered: LAC + CPF/CTT/CTX glossy lacquered with small leather seat and back structure Rigid polyurethane shell.

steel beam chairs
NRMT RAIL-MOUNT
... combinations, either straight or curved, with any number of seats. Steel scroll seating. 19 or 24 in (483 or 610 mm) individual seat length. STANDARD All fabricated metal components ...

steel beam chairs
GG-201-FCT-FM
Description P.P. (polypropylene) injection molded seat shell padded with foam and upholstery Steel frame with powder coating/chrome finish
See the other products
Gauss Furniture

steel beam chairs
METRO PM1-10/20
The Public Metro backed seat is a modular seating design that allows for individual space and is suitable for a varity of public settings.
See the other products
SiteScapes Inc.

See the other products
DuMor, Inc.

Wiry beam seating keeps everything perfectly in line, whilst offering visitors a pleasantly firm seat. With UV-resistant upholstered moulded seats and certified fire protection, Wiry is happy to perform ...

steel beam chairs
DSC AXIS 10000
... You can choose two widths for your DSC Axis 10000 seats, and finish them with upholstery, beech plywood veneer, or a simple steel and aluminium powder paint.

steel beam chairs
ONA by Aitor García de Vicuña
... seats with the option of replacing seat modules with tables. Structure with four 10 x 50 rolled steel legs. 80 x 60 x 2.5 steel rectangular frame. Textured RAL 9006 painted finish. ...

steel beam chairs
FANTONI 2
Features Bench seat 2 seat and backrest with end table. Metal structure with two legs of rectangular steel tube with triangular foot. Seats perforated steel ...
See the other products
de la Oliva

steel beam chairs
TERMINAL by Nicola Cacco
... fixed or laying at floor. Accessories: armrest open or closed version, rack, seat and backrest cushion, beam coupling islands, linking system. Materials and colors: steel aluminium ...

Range of chairs designed for waiting areas. The shell is entirely made of steel sheet, black or aluminium painted. Hardy can easily adapt to any environment.Hardy is available as a single chair ...