How to choose this product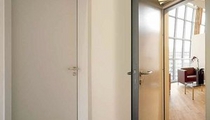 A steel door is composed of one or more steel leaves, each of one or more layers. It is designed to prevent illicit entry to an interior space.
Applications
Such doors are used wherever security is a priority and in order to prevent unauthorized entry. They are often found at building entry points. The metallic profile frames are included, the whole constituting a prehung door unit.
Technologies
These are armored doors made of one or more thicknesses of steel. They consist of one or several steel leaves set into a frame. Standard widths for interior doors are 73 and 83 centimeters. There are also standard widths for exterior and landing or elevator doors. Custom-made steel doors are available to meet specific needs.
Advantages
- Security
- Solidity