The Online Architecture and Design Exhibition

pendant lamp
FORMES by Bart Lens
With the FORMES lamps, architect and designer Bart Lens is paring stylised geometrical shapes back to the essential. The lamps, made from one piece of folded steel, stand out by their ...

floor-standing lamp
BESSIE
name: bessie measures (cm): 160x40 lamps: 1 lamp e27 max. 40w class: class II material: brass finish: nickel weight: 10 kg packaging (cm): 45x45x170 + 47x47x42
See the other products
Villa Lumi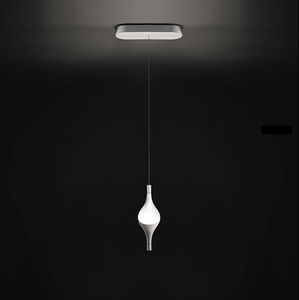 pendant lamp
ACQUA SERIES by Luta Bettonica
With its elegant, sinuous shape, Acqua models the light in the room. Made in modules that join together, it can be used to create all sorts of custom configurations. Indoor suspension fixtures with LEDs and dimmers for installation both ...
See the other products
CINI&NILS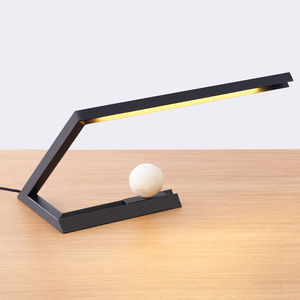 table lamp
OUD by Nat Cheshire
Oud is an extraordinary desk lamp. Its single armature follows a continuous and unbalanced line, concealing all the mechanisms of a warm LED light source. A sphere of polished marble rests on the lower ...
See the other products
Resident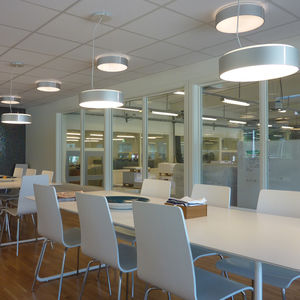 pendant lamp
ALLRIGHT by Per Sundstedt
Finish Anodized aluminium, natural, bronze or dark grey painted and white painted steel. Diffuser in prismatic acrylic. Other colours on request. LED info System power: 17W or 26W. Luminaire Luminous ...
See the other products
ZERO

floor-standing lamp
FUNK 40/22S
typefloor lampdimensionsØ 40cm / H 22cmtotal height: 136cmlight source1x E27 max 60W
See the other products
Dreizehngrad

floor-standing lamp
MARATEE : J05LM-0001/0002/0003 by Jitrin Jintaprecha
Materials Base: Solid Teak Wood Top Frame & Pole: Iron Steel with Black color finished Top Finished: Natural rattan peel wrap Dimensions Size S : W50 D50 H120(CM) / Size M : W50 D50 H150 (CM) / Size L : W50 D50 H180 (CM)
See the other products
Corner 43 Decor

... lighting control) 2 LED light panels (up/downlight) for direct illumination and indirect overhead light Transparent cover for the indirect light protects against contamination Convenient operation using a push button ...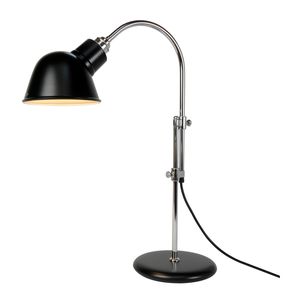 ... : Powdercoated Steel Width 450mm Height: 680mm Diameter: 165mm Weight 2.5kg Type Of Fitting: E27 Number of lamps: 1 Lamp: GLS Maximum Wattage: 40 Voltage: 230 (AC) Type of glass: No Glass IP ...
See the other products
ORIGINAL BTC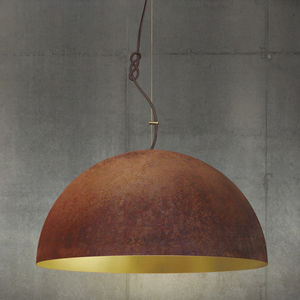 The exterior of The Queen is made from corroding steel, while the inside of the lamp is covered with 23.75 carat gold plate. The spherical gold-plated form creates the illusion that the entire inner surface ...
See the other products
Mammalampa

See the other products
CÉLINE WRIGHT

Body and trim: Steel and aluminum. Heat sinks: Die cast aluminum.Finish: Powder coated as specified. Custom paint finishes available to special order.Suspension: Stainless steel cable, small, one cable, ...
See the other products
Beta-Calco

... this product is not available to our customers living in the USA. *MaterialsSustainably sourced ash, oak or walnut. Solid steel with a polished chrome satin nickel finish. For more help choosing your wood type click ...
See the other products
Tom Raffield

table lamp
LA PRESTIGE 30
Table lamp providing direct and indirect light.Massive brass cirde and base.Available in 7 différent colors
See the other products
Le Deun Luminaires

floor-standing lamp
GESINE
Steel structure with steel sheet treated with transparent finish or glossy colored paint. On request, customized solutions in its dimensions.
See the other products
Laboratorio Mattoni

pendant lamp
DARK : MA 10 by Mark Anderson
Hanging lamp with central lighting body, cables in steel and rings in brass. Halogen bulb PAR 75W. Finish lighting body: Black Nickel Brass Dimensions in cm.: Ø 74 x H. 96/196 [inch.: Ø 29"1/8 ...
See the other products
LAURAMERONI

floor-standing lamp
LUNE CHLOÉ
A free standing lamp where economy rimes with ergonomy and efficiency ndirect/direct light emission Height : 1,90 m (see technical data sheet) Weight : 15 kg Made of steel and aluminium - Rectangular ...
See the other products
CONFIDENCE

floor-standing lamp
CO-AX by Achim Jungbluth
... 240/12V 300VA transformer and stainless steel outriggers ensure stability. The CO-AX profile is made of brass nickel plated, brushed matt made optional. The foot is made of powder- coated steel and brushed ...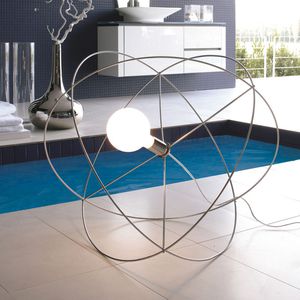 Steel wire floor lamp with sandblasted bulb. Ø 70 cm. Light 1xE27 - 52 W HES (Patented item) All lamps are CE certificated. For indoor use only.

pendant lamp
SHELL by Alexandra Tsoukala
hanging lamp: 60x70cm. 220/230V / E27 ENERGY SAVING LAMPS ONLY, 26 WATT max. (1560 lum.) SAV. CAT. A. Electncal fittings/cables all approved. Body: all steel structure, electostatically painted ...
See the other products
Alexandra Tsoukala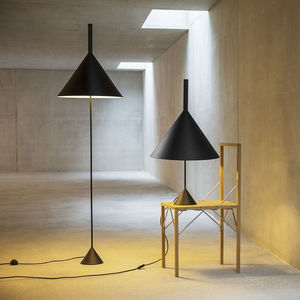 floor-standing lamp
FUNNEL by Bevk Perovic Arhitekti
The lamp's design owes its form to the funnel, a highly typical household object, something all our grandmothers used in their kitchens, bottling and decanting wine, olive oil and similar throughout their lifetimes.While ...
See the other products
VERTIGO BIRD d.o.o.

floor-standing lamp
ETICA
ETICA Floor by Ilide is a handmade floor lamp with high aesthetic value that completes the ETICA family. Its diffuser consists of a fine porcelain 'heart' that is translucent, enclosed in a precious blown glass shell ...

pendant lamp
BUBI by Henning Koppel
Shade manufactured in opal impact-resistent high-gloss acrylic. Handmade top in chrome steel. 400 cm of textile cord. Max 12W fluorescent bulb. Weight: 1.3 kg. Diameter: 22 cm. Height: 16 cm. Standard colour: Chrome top ...
See the other products
PANDUL

... PATTERNED, CYAN / GREY,WHITE / BLACK, BLACKLarge-sized pendant light. Heavy, opaque shade. Design Supergrau® Glazed porcelain, steel reinforced textile cable
See the other products
SUPERGRAU Möbeldesign OHG

pendant lamp
ODIGIOTTO 200/21
Collection of pendant lamps in tube and plate steel powder coated. Upper and lower Diffuser in satin methacrylate for a dual light emission.
See the other products
GIBAS