The Online Architecture and Design Exhibition

pendant lamp
DARK : MA 10 by Mark Anderson
Hanging lamp with central lighting body, cables in steel and rings in brass. Halogen bulb PAR 75W. Finish lighting body: Black Nickel Brass Dimensions in cm.: Ø 74 x H. 96/196 [inch.: Ø 29"1/8 ...
See the other products
LAURAMERONI

floor-standing lamp
LUNE CHLOÉ
A free standing lamp where economy rimes with ergonomy and efficiency ndirect/direct light emission Height : 1,90 m (see technical data sheet) Weight : 15 kg Made of steel and aluminium - Rectangular ...
See the other products
CONFIDENCE

floor-standing lamp
CO-AX by Achim Jungbluth
... 240/12V 300VA transformer and stainless steel outriggers ensure stability. The CO-AX profile is made of brass nickel plated, brushed matt made optional. The foot is made of powder- coated steel and brushed ...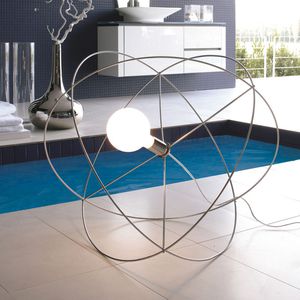 Steel wire floor lamp with sandblasted bulb. Ø 70 cm. Light 1xE27 - 52 W HES (Patented item) All lamps are CE certificated. For indoor use only.

pendant lamp
SHELL by Alexandra Tsoukala
hanging lamp: 60x70cm. 220/230V / E27 ENERGY SAVING LAMPS ONLY, 26 WATT max. (1560 lum.) SAV. CAT. A. Electncal fittings/cables all approved. Body: all steel structure, electostatically painted ...
See the other products
Alexandra Tsoukala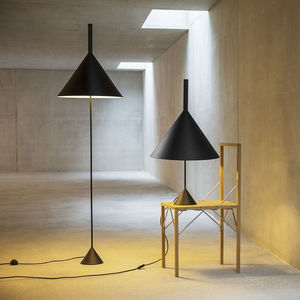 floor-standing lamp
FUNNEL by Bevk Perovic Arhitekti
The lamp's design owes its form to the funnel, a highly typical household object, something all our grandmothers used in their kitchens, bottling and decanting wine, olive oil and similar throughout their lifetimes.While ...
See the other products
VERTIGO BIRD d.o.o.

floor-standing lamp
ETICA
ETICA Floor by Ilide is a handmade floor lamp with high aesthetic value that completes the ETICA family. Its diffuser consists of a fine porcelain 'heart' that is translucent, enclosed in a precious blown glass shell ...

... PATTERNED, CYAN / GREY,WHITE / BLACK, BLACKLarge-sized pendant light. Heavy, opaque shade. Design Supergrau® Glazed porcelain, steel reinforced textile cable
See the other products
SUPERGRAU Möbeldesign OHG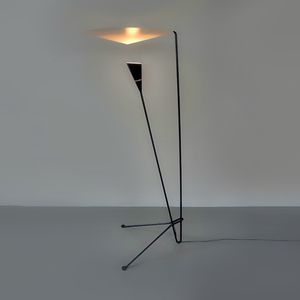 ... by which the light is dispersed are signatures of this Michel Buffet Lamp. Light shines from the shade below to the conical disc above and is reflected out.Painted Aluminum and Steel.Height: 70″Tripod ...

table lamp
BANDAGE by Selvaggia Armani
The Bandage series is a tribute to the goddess of good fortune, Lady Luck, who embodies the gifts of blind fate in Latin mythology. The divinity as perfection…and the oval, an imperfect deformation of the circle. Together they contrast ...
See the other products
HSL srl

floor-standing lamp
SPAR by Jamie Mclellan
DESIGNER:JAMIE MCLELLANMANUFACTURER:RESIDENTMATERIALS:POWDER COATED STEEL, ANODIZED ALUMINUMDIMENSIONS:L61"x W14"x H72.8"DESCRIPTION:This large cantilevered Floor Light takes its inspiration from the mast arrangements ...
See the other products
MATTER

Big Switch is a table light that makes what is often a hidden element into its defining feature. Its crescent-shaped button with a ridged surface clicks down to activate. The switch and base are cast in red, yellow, blue, or black polyurethane ...
See the other products
Castor

STEEL FLOOR LAMP Unique, steel floor lamp. Original geometric shape. Made of bent steel. Black colour. Straight bent lines and various hight make ...
See the other products
Gie El

floor-standing lamp
TUOMAS by Yki Nummi
... smoky grey and the inner shade is white. Due to its simple design, the Tuomas lamp fits well with many spaces and interiors. The Tuomas product family also includes pendant lamps.
See the other products
Innolux

pendant lamp
MOLLY by Luisa Robinson
... mobile grace of sea anemones and jellyfish, the Molly Hanging Lamp suspends mid-air with unique artistry. The lamp is made of ribbon strips carefully hand woven through a highly durable steel frame.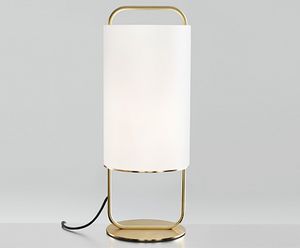 table lamp
ALISTAIR M by Jordi Veciana
Table lamp. Structure in golden matt or graphite eletroplated steel. Cylindrical diffuser in blown opal matt glass. Dimmer placed in electrical cord.
See the other products
Parachina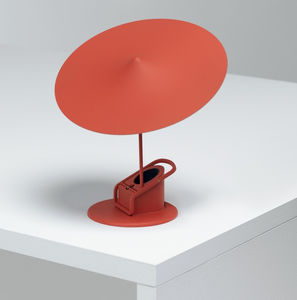 ... status of clamp lamps, and to bring back happy and light typology, the aim for w153 île was to allow for more uses for a basic clamp lamp, making it a multi-purpose lamp. There is a at ...
See the other products
Wastberg

floor-standing lamp
MINI MINI by Franco Zavarise
... Mini Mini the desired angle and shape. Category: FLOOR Dimensions: h. 100 cm, 150 cm, 200 cm Light Source: 1x1,5W G4 LED CERAMIC 12V 2700K 85Lm En. class A Material: Brass Colour: Copper green Burnished brass
See the other products
ZAVA SRL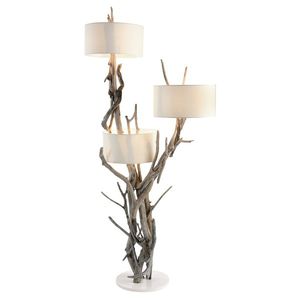 floor-standing lamp
QAANAAQ
White lacquered steel base / Ecru cotton lampshade L85 P40 H190 cm L33.46 P15.74 H74.80 inches réf.L047NE. Max. 3x40W
See the other products
BLEU NATURE

pendant lamp
LATTE : LP-360
Latte has a sensible geometry, minute extruded corner supports, and unique machined bottom lens accents. Choose from 12 standard configured diffuser options or opal white acrylic. The floating canopy and accents provide a bi-color match ...
See the other products
Manning Lighting

... comfort, we wanted its dimmer to be directly reachable. Technical features Dimensions : L 165 cm x H 200 cm Materials : steel / aluminium Input : 100 – 240 V – 50 / 60 Hz Output : 24 V – 0,75 A Consumption : 8 W LEDs ...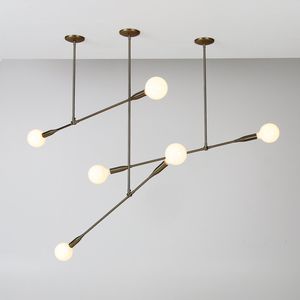 ... sea kelp. Method | The elegant arms of the Sorenthia are comprised of a combination of custom cast, machined, and spun metal pieces. A local metallurgist plates or powder coats the parts, after which they return to ...
See the other products
Studio Dunn

pendant lamp
CLOCHE ONE by Knut Bendik Humlevik and Rune Krøjgaard
The Cloche series is a family of pendant lamps made of turned aluminium with a brushed brass treatment on the inside. This elegant pendant lamp is suspended with a steel wire ...
See the other products
NORR11

table lamp
ELOMAX by Beyou & Roger créateurs
Steel lamp made of recycled sail cloth 1 light Socket E14 Light bulb not included Recycled and made in France

pendant lamp
CHERRY by Nika Zupanc
With its dangerous curves ahead the Cherry Lamp pendant is the ultimate instrument of seduction for all ready to live. Originally hand-blown in precious glass this luscious luminary, now gets an explicitly glossy plastic ...