The Online Architecture and Design Exhibition

floor-standing lamp
FLOREALE by Terri
The Quinta and the Lampada Floreale are unique objects with a special design, fun and elegant they enrich an indoor or complete an outdoor space, as in a game they fit anywhere. The Quinta Floreale creates privacy and paths, the Lampada ...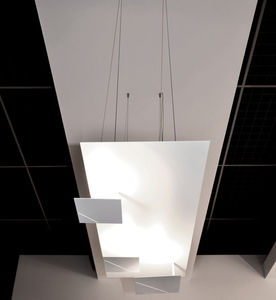 pendant lamp
DES•AGN: 100A3
Wall/ceiling/suspension lamp in inox steel cm 100X40X17 Finishing: total white – silver leaf – gold leaf white/matt black – white/red white/silver leaf – white/gold leaf Electric supply: 3 led ...
See the other products
Knikerboker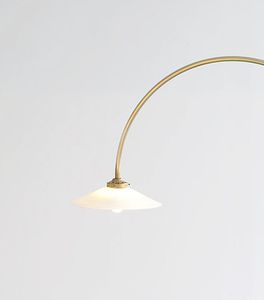 floor-standing lamp
N°1 by Muller Van Severen
lacquered steel 190 x 100 x 120 cm 74,8 x 39,4 x 47,2 inch

pendant lamp
CINEMA : C8-12-11
... compositions: The rings are available in stackable four-, six- or eight-foot diameters. Materials Steel frame with satin opal globes Lamping 108W LED Specs 2-step LED 3100 Lumens ...
See the other products
Rich Brilliant Willing

pendant lamp
BASIC: CIRCULAR CROPPED
... Available in various 150mm, 280mm and 400mm diameter sizes. Illuminated by G9 Halogen 40-60W lamps with a special sandblasted Pyrex glass visor diffuser. Alternatively, LED versions may be available on ...
See the other products
willowlamp


Lite is a remaking of a lamp designed in 1930. More than 75 years later, the timeless quality of the simple and fonctional design still seduces people. The collection is completed with table lamp, wall ...
See the other products
Massmi Iluminación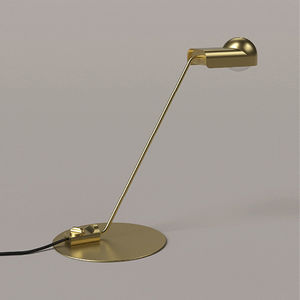 table lamp
DOMO by Joe Colombo
... . Specifications Product DOMO Table Lamp Type Table Lamp Design Joe Colombo Product Description Painted steel rod and base, painted aluminium shade and joint. On/Off switch on cord. Construction ...
See the other products
karakter

floor-standing lamp
E0, E1 by Oliver Haefeli
Standard Lamps E0 white Article no.: 744007 Size: Height: 171 cm Cuboid: 12x12 cm Cable length: 240 cm
See the other products
Senses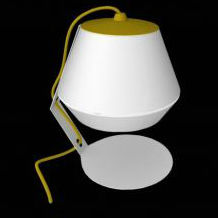 Thermo-laquered colored aluminum body,thermo-laquered colored steel structure. Thermo-laquered colored steel base. Built-in control gear. Available color temperatures.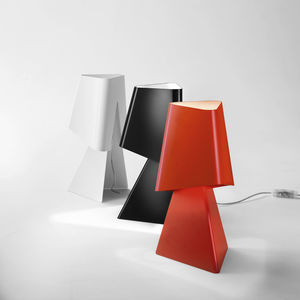 table lamp
LISEUSE by Benoit Deneufbourg
... Materials: Steel. Lighting sources: Halogen or fluorescent. "Liseuse" is a table lamp made of lacquered steel in three different colours: white, red and black. The shade refers to ...
See the other products
MACROLUX SRL 

... ranging from Claridge's to the Soho House members club in London. Steel with burnished gold leaf. Dimensions: H 880mm including ceiling rose. W1000mm D600mm Finishes: Dimmer enabled LED

... kinds of lighting fittings: TE2, an applique with round frame with powder coated micro pierced sheet, and TE5/ TE8, floor lamps with micropierced sheet powder coated reflector for direct and indirect lighting.

pendant lamp
APOLLO by Godefroy de Virieu and Stefania di Petrillo
... lights for the historical crystal workshop.The resulting lamps show a chromed steel ring, with a diameter equal to the glass. DIMENSIONS: Diameter: 5" Height: 12" MATERIALS: Crystal and chromed steel
See the other products
Atelier Courbet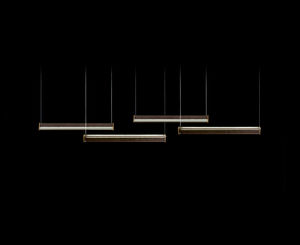 pendant lamp
Y by Massimo Castagna
... energy saving led lamp with warm light, Y-shaped body, steel suspension cables. Finish structure in brass hand-burnished using traditional techniques. With cover in burnished steel ...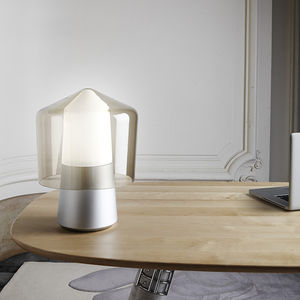 table lamp
TIP TOP by Jonah Takagi
Tip top is a table lamp made of two superimposed domes of blown glass only in contact at their vertex. This unusual construction creates an aerial sensation of equilibrium. The solid aluminum base completes this quietly ...
See the other products
LA CHANCE

floor lamp
KALA by Ron Froim
... it's stems gathered into a cocun like vase. Materials : reinforced polyester,steal Vase height : 75 cm Total height : 180 Lamps base : E14

pendant lamp
BURLESQUE by STUDIO 14
Suspension lamp. Varnished steel sheet lampshade. Light bulb not included, maximum power 100 w.
See the other products
Colico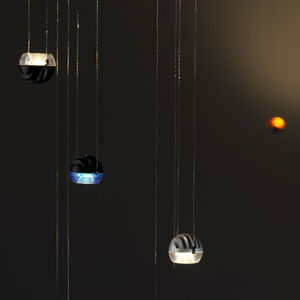 pendant lamp
*TRACK by Ben Wirth
... can be suspended from high ceilings on fine wires.The light source is a small globe (Ø 28 mm), consisting of two parts: the LED (with a lens to focus the light and a translucent plastic casing) and a heat sink in anodized ...

pendant lamp
ABYSSINIA : SET OF 3
... Abyssinia Set of 3 lamps spans approximately ø 2,5-3 meters. Each set of lamps includes the lampshades, electrical installation, cables for a standard height of ceiling of 3 meters and a rosette for ...
See the other products
Petlamp Studio

pendant lamp
THEMIS TRIO 2 by Clara von Zweigbergk
Following the success of the previous hanging trio mobile, Clara von Zweigbergk is at it again. Themis Trio 2 features a juxtaposition of a multitude of color ways in bright, muted and metallic color ways, futhering her signature color ...
See the other products
Artecnica

pendant lamp
RAIO by Marco Sousa Santos
PVC, cotton, steel string. Size: 45 ( W ) X 100 ( H ) Cm Electrical Specifications: E27 MAX 60W Refª9000, 230V ~ 50 Hz
See the other products
Branca-Lisboa

floor-standing lamp
TOTEM by Marco Dellai
Its much more than a simple lamp. Its a unique piece of design that turns it from a simple piece of forniture into a light and reflection maker. Available in different heights, it can fit into any setting, you can even ...
See the other products
Mauro pedergnana

table lamp
LUMINAIRE : BLANCHE.TA
Table lamp, structure made of mat white colored steel, white fire-resistant fabric shade with silver colored inside.
See the other products
pezzani home collection

... 300mm (h) x 600mm (ø) Large 500mm (h) x 1000mm (ø) Materials: Anodised Aluminium, black braided cable, 14/E27 lamp holder, steel suspension cables, energy saving compact fluorescent light bulb Suspension ...
See the other products
Deadgood

pendant lamp
BENDANT by Jaime Salm
BEND IT TO YOUR LIKING The MIO Bendant Lamp is the only chandelier pendant lamp that can be customized by bending the shades. The Sputnik-like design is flat-packed for efficient transportation and ...
See the other products
MIO