The Online Architecture and Design Exhibition

table lamp
GINA by Giovanni Bartolozzi
Gina is a table lamp and a book container at the same time; it is realized in an only curved steel sheet. The led light source is situated within a mobile element that ...

... still hot. DIMENSIONS H 38cm/15″ W 30cm/12″ DIMENSIONS WITH SHADE H N/A W N/A COLOURS Antique Rose & Purple, Turquoise & Steel Blue, Amber & Olive, Tea & Peach, Olive & Lime FINISHES Antique Brass, Brushed Brass, ...

Type: Suspension Family product: BIG FLAT / 360 Use: Inside, led Installation: Suspended Fixing system: Adjustable micrometric suspension system with steel cable L = 3100 mm Body/structure: Steel ...
See the other products
SIDE ILLUMINAZIONE SPA

floor-standing lamp
LOFT D1260
Interior color : white Head : 150 mm Switch : yes Use : Floor lamp Socket : porcelain E27 and E26 Power : 60w Arms : 1 x 120cm arm + 1 x 60cm arm Cordon : yes
See the other products
JIELDE

pendant lamp
ROYAL BB by Edward van Vliet
DIMENSIONScm | inch LxWxH∅ 0X0X88 80 MATERIAL steel
See the other products
Quasar Holland

... industrial inspiration of this suspension is fully perceptible in suspension Olivia, made with a natural black iron pipe. The lamp Olivia allows an accurate light and creates a minimalist atmosphere. The Olivia suspension ...

... this lamp is hidden inside. Different sizes available on request. Specifications: aluminium handgrounded | laquered in one or two colours | all customade paintings available | socket E27 | protection class 2 | max. ...

Reconfigurable table lamp with painted or brass finished metal structure. The heavy carved solid steel base guarantees optimal stability. Thanks to the two holes on the steel ...

... that would benefit from ambient illumination. Metal Polished Nickel & Blackened Steel Polished Brass & Blackened Steel Shade Silken Cable Black Textile Electrical Specifications 1 ...

floor lamp
STRUCTURE & GLOBE
Material and fabrication: powder coated steel and glass. Available in black or white. Light source: E27 screw base light bulb max 75W (large) 60W (small)
See the other products
Atelier Areti

pendant lamp
ANÉMONE by T. Lancman & M. Galante
... glass "flags" invite the caresses and give a dynamic miles away from traditional lighting fixtures. MATERIALS Frame Steel Steel and polycarbonate Glass Murano glass
See the other products
Veronese

bedside table lamp
MEDUSA by Olaf Von Bohr
... beheld Medusa's head would be turned into stone..." Medusa is created by assembling a series of shaped lacquered strips about a steel hoop. The strips form a unique diffuser that creates a sensually soft lighting effect. ...
See the other products
SP LIGHT

See the other products
HOLIGHT

pendant lamp
LIGHT ME UP by Marge Arkitekter
Steel Height 250 / 500 / 710 mm Diameter 160 / 320 / 500 mm LED A family of pendants in three sizes equipped with a LED lightsource. All members of Light Me Up has a downward directed ...
See the other products
BLOND

floor-standing lamp
TOSA ALBINA
Designer lamp, custom-made for each client. Goose quill feathers available in various colors; powder-coated steel stand; variable height approx. 230-300 cm, 2 E27 downward-pointing bulb sockets for halogen ...
See the other products
Pluma Cubic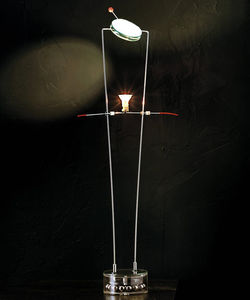 ... I O C H 35W max 12V ø35 GU4 230/12V Base: Plexiglas and mirror Stem: Steel Finish: Chrome Detail: Revolving mirror and Chromium spheres in the base Transformer: With plug Lamp: Dichroic Weight and ...
See the other products
lucifero illuminazione

desk lamp
by Thinkk Studio
... », also featuring a ceiling lamp and a wall lamp. The Cement Wood collection has been used in many projects, such as Danone, Ruyi Dumplings restaurants, four seasons hotels. This collection will inspire ...
See the other products
Specimen Editions

pendant lamp
LÖWENHOF by W2 Manufaktur

desk lamp
MEDUSINA by Pepe Tanzi
Small bedside or desk lamp which provides diffused direct light, supplied with an extra low voltage halogen bulb. The stem is in steel, the diffuser is in hand shaped blown borosilicate glass available ...
See the other products
ALBUM

This series of table lamps is a result of a long design process that aimed to align the use of concrete and Steel with the rules of aesthetics. We took these two rough industrial materials, and carefully ...
See the other products
ARDOMA DESIGN

floor-standing lamp
NAVIRE
The Navire floor lamp is part of Atelier de Troupe's classic Navire collection inspired by nautical lamps of the 1930s. The body and base are fabricated from powder-coated black steel. ...
See the other products
ATELIER DE TROUPE

steel | 14 x 11 x 29 cm | 2014 A family of lamps inspired on paper cuts as we are used to make as a child. These lights represent the joy and surprise of a child while discovering this technique. The ...
See the other products
Kiki World

pendant lamp
FRAMED CIRCLE
... into a steel profile. The lighting system is incorporated in the steel frame. The light lines displayed by this design lighting emphasize the interior architecture in a unique way. They create a play ...
See the other products
Jacco Maris Design

floor-standing lamp
SANREMO by Archizoom Associati
The prototype of the Sanremo floor lamp was an engagement present from Dario Bartolini to Lucia Morozzi, given to her in the villa in Roccamare designed by Ernesto Nathan Rogers. Sanremo is composed of a slender metal ...

pendant lamp
BEVELED ATELIER by Lou Force
A steel plate which was cut, rolled and suspended thanks to stainless steel rope and lifting eye bolt: the design of the Atelier suspension combine beauty and simplicity. The way the metal ...
See the other products
Séries Limitées, mobilier et objet de créateurs