The Online Architecture and Design Exhibition

pendant lamp
ELETTRA by Aldo Bruno e Arianna Teardo
Charming collection that enhances the versatility of the laser cut and folded by hand steel: between the inclinations of the bands that compose the shade there is an elegant play of light and shadows, while thanks to ...
See the other products
selène illuminazione

floor-standing lamp
VOLIGE
... , VOLIGE floor lamp releases an indirect lighting of a warm white. It can lean against the wall, or, thanks to its magnet, cling to a small steel plate sticked on the wall. LED lighting. ...

table lamp
CAGE by Rodrigo Vairinhos
... GENEROUS DIMENSION CAGE FILLS THE ROOM AND SATIATES DE ATMOSPHERE WITH A SOFT BUT DIRECT LIGHT.  MATERIAL ALUMINIUM, STEEL, ACRYLIC

Ref. 51.470.1 Width : 35 cm Depth : 15 cm High : 54 cm
See the other products
Viveti

Football lamp gloss stainless steel small Ø 40 cm /31 x 4W-12V

floor-standing lamp
SITUATION 01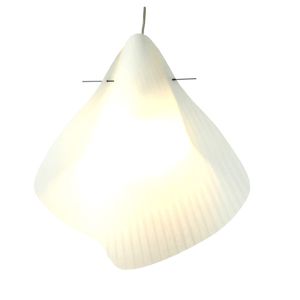 pendant lamp
GINGKO : 001566 by Céline Wright
... suspended Gingko leaf. Cast iron of black steel, stainless steel, massive walnut, washi paper… Distinguished materials for an exclusive graphics and ethereal CFOC creation. FEATURES Material: ...
See the other products
La Compagnie Française de l'Orient et de la Chine

table lamp
CB0690 / CB0692/ CB0693
Table lamp, Kubix, Black/White, 18x18 cm, h: 42 cm, E27, max 25 W, 2.4 m cable MaterialThe product is made of iron and steel, cable 2.4 m., MAX 25 watt, E27. IP20. Washing instructionsThe product ...

pendant lamp
ASTERIA by Soren Ravn Christensen
... stars with VITA Asteria! Born at the crossroads of design, technology and craftsmanship, this lampshade incorporates built-in LED lights into a sleek, minimalist shape, echoing a design from the future and for the future. ...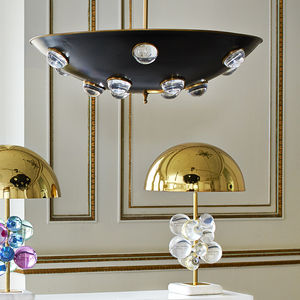 pendant lamp
GLOBO DEMILUNE
The soft dome shade creates a warm glow by refracting light softly on the ceiling. Crafted from blackened steel with brass accents for a sense of architectural classicism, but punctuated with a constellation of 12 acrylic ...

Series of hemispherical steel large pendant lamps of striking and glimmering impression. The inner surface is decorated with delicate gold, silver or copper leaf insert, then varnished with shellac. ...

table lamp
MISS SWISS by Nils Holger Moormann
lamp shade: Chintz ecru lamp stand: steel uncoated

table lamp
CUBIC 1930 by Jean-Michel & Adolphe Chanaux
DESCRIPTION Base in patinated steel, shade in alabaster. DIMENSIONS l.4 x w.4 x h.4.7 inch
See the other products
Ecart International

floor-standing lamp
MONSIEUR by Marco De Masi
... lifting one's own hat. This steel pole lamp inspired by Italian history and tradition retains an essential and original outline which conveys a warm atmosphere of light and elegance. Monsieur is entirely ...
See the other products
officine tamborrino

... designer MONIKA MULDER category pendant collection SOFT REFLECTIONS dimensions (cm) D:12 H:16 W:12 material STEEL mounting SUSPENSION TYPE cable (cm) 300 max watt MAX 1*20W bulb included NO ...
See the other products
pholc

floor-standing lamp
MANTE RELIGIEUSE : N°14.950
Floor lamp Icon of the house Rispal since almost 70 years …
See the other products
Rispal

table lamp
SCRAPLIGHTS: TILT
Crafted in the Netherlands and built to last, the TILT Table features a sturdy waxed steel frame, textile wrapped cord, bottom felt pad, and durable switch. Easily secured into place using two heavy-duty knurled thumbscrews, ...
See the other products
graypants

floor-standing lamp
STUDIO-1
Materials : Reflector perforated elasticated fabric and diffuser PMMA Structure steel epoxy satin paint source LED : 17 W - 1700Lm - 3000°K Class 1 Not dimmable IP20
See the other products
Inventive

General InformationArticle: 32821Lighting Type: pendant luminaireEAN Code:9002759328214 Material & ColourEnclosure Material: steelEnclosure Colour: satin nickelGlass / Shade Material: woodGlass / Shade Colour: whiteCable Colour: TR
See the other products
EGLO Leuchten GmbH

Pendant The Vipp pendant is a lamp for the dining room. The pendant has a perforated lamp shade and matte glass for a pleasant diffusion of light. Materials Powder-coated aluminium and steel, ...
See the other products
VIPP

Suspended ring, minimal and with an extraordinary aesthetic impact. The steel body is white painted with a PMMA antiglare prismatic diffuser with high transmittance. Available in two sizes, on-off or dimmer. Up and down ...

... tram yards of the 1940's and 1950's, the tram light is a nostalgic glimpse into cities of the past. It is available in black steel, copper, brass or powder coat finish.
See the other products
LifeSpaceJourney

pendant lamp
RAY by Pederjessen| DK
... inside the steel shell with magnets so that the user can position the beam of light in any direction.Ray's outer shell is constructed in steel, with wooden inner globe housing, and textile-covered cord. ...
See the other products
Mater Design

pendant lamp
COLOSSEUM by J.P.Meulendijks
... hotel-lobbys and residential spaces. material: coated steel dimensions: diameter: 72 cm. Height: 41 cm. / diameter: 28,4 inch height: 16,2 inch. Including: 1x E27 , max. 230 volt lamp-holder ,steel ...

floor lamp
ICARO by Brian Rasmussen
Floor lamp in painted transparent, white or black steel wire. Light bulb at sight or protected/covered by a stripe in removable material.
See the other products
modo luce