How to choose this product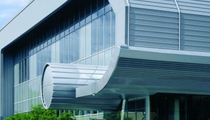 Steel panels are rectangular, relatively thin sheets of varying size made of steel or steel alloys, including stainless and related materials. They can be perforated, corrugated, decorative, embossed or printed, and used for fencing or other purposes.
Applications
Steel panels cover rooftops, raised access floors, walls and partitions. They can also be used to make false ceilings, elevators, staircases, doors and outdoor furniture.
Technologies
Depending on their chemical composition and fabrication method, steel panels offer particular aesthetic and technical characteristics, including resistance to impact and corrosion, insulation and fireproofing.