How to choose this product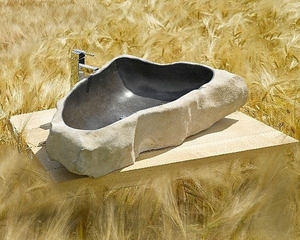 A stone washbasin is a sink made of granite, marble, river stone or another mineral. Its exterior finish can be rough, cut or sculpted. Its unique pattern and solid appearance add a natural touch to a bathroom. On ArchiExpo, such fixtures are defined by various properties including installation type (freestanding, counter-top, etc.).
Technologies
Many such washbasins have a porous surface requiring careful, regular maintenance to avoid marks and staining. Acidic cleaners should not be used on marble and similar stone. Certain types of stone may need to be sealed to resist scratching and staining. Engineered stone is a composite material bound by a resin. It a lighter, less expensive alternative to natural stone which can be cut using similar methods.
How to choose
Consider installation method and height. Budget is also important, since natural stone can be very expensive. Determine maintenance and cleaning needs. Some stone is more easily damaged than others. For example, granite is prone to staining and scratching.

Ensure that wall-mounted are not too heavy for the supporting structure. Sink style and dimensions should be appropriate for the surroundings. Some organic shapes can make a striking addition to a washroom, while bold geometric forms harmonize well with minimalist decor.
Advantages
- Durable
- Attractive finish
Disadvantages
- Expensive
- Heavy
- Some are high-maintenance