How to choose this product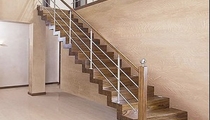 Staircases can be classified according to their configuration: half-turn, quarter-turn, spiral or straight. Straight staircases have a single run in a single direction, with or without an intermediate landing. ArchiExpo offers both interior and exterior versions. The greater the horizontal distance covered, the lower the risers, resulting in less effort to climb the stairs.
Applications
Stairways are found in interior or exterior spaces, homes, apartment buildings, shopping centers, office buildings, industrial plants and cultural centers. Straight models are versatile enough to be appropriate for any type of construction, even emergency staircases, though this is not the most common application.
Technologies
Straight staircases can have a central or lateral supporting structure. Floating staircases can be embedded in a wall or freestanding, either supported or suspended.
How to choose
Choice will depend on a number of factors:
- Available horizontal space
- Vertical distance between floors
- Railing and riser options
- Interior or exterior location: Design and materials will differ depending on whether the staircase is in a protected environment or exposed to the elements.
- Use: A home staircase will differ from one in a shopping center or industrial setting, especially if intended for emergency use. In each case, there are different minimum dimensions and norms.
Advantages
- Offers greater security
Disadvantages
- Requires more space