How to choose this product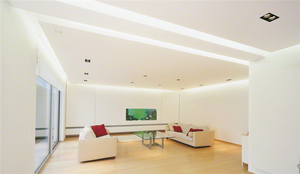 A stretch ceiling consists of a flexible membrane of PVC, polyester or polyurethane attached to metal profiles installed around the perimeter of the room. It offers numerous aesthetic options thanks to the wide variety of available colors and designs.
Applications
These ceilings can be installed in any setting, the most common being living rooms, kitchens, bathrooms and swimming pools. They are custom cut and hung to fit each locale.
Technologies
Fireproof material must be used for the membrane, which also can be washable and have antimicrobial, moisture-resistant, acoustic or other properties. Some membranes are stretched after heating, resulting in a smooth, flat aspect over the entire ceiling surface. Others can be hung at room temperature with the same result.
Advantages
- Rapid installation
Disadvantages
- Not modular