How to choose this product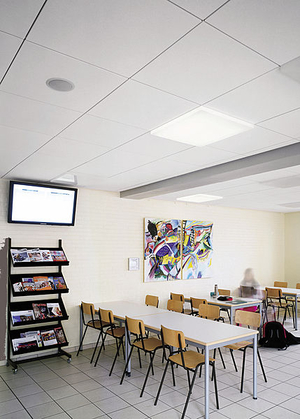 A suspended, or false ceiling consists of panels supported by a metal framework. It is used to hide plumbing, electrical wiring, air conditioning and heating ducts and insulation. Its panels can have acoustic, fireproofing or other characteristics. This type of ceiling also may be made of fixed plasterboard panels, a less flexible configuration.
Applications
These ceilings are installed principally in commercial, industrial and public buildings, including offices, hospitals, schools and theaters. They are appropriate for either new constructed or remodeling projects.
Technologies
Panels generally measure 60 centimeters square, though other formats are available. Configurations include grillwork, strips and perforated elements. Wood, PVC, plaster, metal and other materials are used to manufacture these panels.
How to choose
Choice will depend on specific use and performance requirements: moisture-resistant for bathrooms or swimming pools, fireproof for kitchens, acoustic for offices, factories and concert halls. Washable panels facilitate maintenance and have a longer useful life.