How to choose this product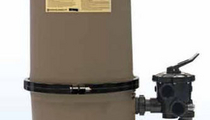 A swimming pool filter cleans and, sometimes, purifies the pool's water by pumping it through a filtering mechanism which removes particulate matter. The water is then returned to the pool.
Technologies
Filter capabilities vary with type. Expensive diatomaceous earth filters are used principally in professional or public settings where performance is paramount. Cartridge filters use synthetic materials to remove solids from the water. Sand filters clean the water as it passes through a bed of a special grade of sand. Disposable filters are economical and easy to replace.
How to choose
Choice will depend on water volume and frequency of pool use (home versus public), which determine the required type and level of filtration. System cost, pump capacity and maintenance requirements also should be considered.