How to choose this product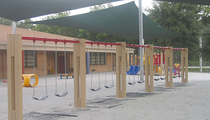 A swing is usually installed in outdoor play areas, and may be designed for one or many users of different ages. The frame is often attached to the ground, and may be made of materials such as stainless steel or wood. The swing may be of plastic, wood or other materials, and is attached with chains or rope. ArchiExpo classifies swings by properties such as constituent material.
How to choose
Whether for private use or public playgrounds, swing materials should be non-toxic, impact resistant and without sharp corners or edges. The frame should remain stable, even under heavy use. Robustness, weather and corrosion resistance, load capacity and ease of maintenance are also important. Seat dimensions must suit the age of the users, the youngest of whom may require security belts. Swing style may be chosen in light of other playground equipment, especially where there is a theme or a standardized finish, such as wood or steel.