The Online Architecture and Design Exhibition

protective coating
MURFILL®
Long lasting elastic, aesthetic and waterproof wall protection An elastic, crack bridging and waterproofing façade coating. The microporous structure ensures that the base is constantly able to breathe. Ready for use ...

decorative coating
PETROSOL RUGOSO
... Theoretical performance: 1,6 - 2,1 m2/l Repainting: 12 - 14 hs Finish: Petrean Matt Dilution and cleaning: Water Petrean coating with acrovinyl binder for the protection and decoration of exteriors and interiors. ...

TECHNICAL CHARACTERISTICS: T501 is a ready to use plaster in natural hydraulic lime and selected aggregates, ideal for the preparation of traditional breathable plasters. T501 is compliant to UNI EN 998-1 Specifications for mortar for ...
See the other products
tassullo

decorative coating
BEYAZCOAT 5010
... material, Beyazcoat is applied in liquid form, and upon setting, it becomes a very elastic, impermeable, seamless, and durable coating. fiber Added Beyazcoat is reinforced with strengthening fibres. Usage Areas Beyazcoat ...

... membranes. Mule-Hide #210 Plastic Cement has a heavy "trowel-grade" consistency which makes this product ideal for flashing details and a variety of waterproofing repairs, such as moving joints and roof penetrations. ...

decorative coating
BRICKFORM : POLY-ASTIC
Premium, High-Build, Poly-Aspartic Sealer - Zero VOC BRICKFORM Poly-Astic is a two-part high solids, durable, and high gloss sealer designed for interior use on concrete or masonry surfaces. Poly-Astic is designed for two coat application ...

cladding coating
SAPTOCREPI
See the other products
LEVIS

smoothing coating
PLANIDUR
See the other products
PRB

smoothing coating
A 64 R-EVOLUTION
... levelling irregular solid surfaces, both absorbing and non-absorbing (such as concrete, particularly strong plaster, plastic coatings, aerated concrete or highly adherent mosaics, etc.). Supply - ...
See the other products
Fassa Bortolo

filling coating
AHRWEITEX
... itself by its white shade. Max. wet-film thickness 1000 µ. Binder base Plastic combination Drying (23 °C 60 % rel. air humidity) with water-dilutable paints as well as synthetic resin paints, ...
See the other products
jansen

protective coating
HUILE IDEALE®
is a long-term, environmentally friendly decorative protection for all new or old interior woods. Interior HUILE IDEALE® tints and protects all types of wood in a guaranteed single coat, with excellent coverage: +/- 40m² per litre. The ...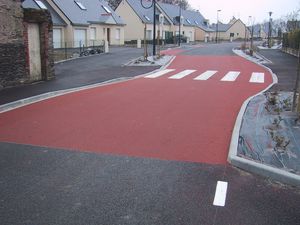 cold-applied coating
AXION OSLO
Cold plastic coating for urban marking DEFINITION Two-component cold plastic coating for urban marking, applicable with a spatula on hydrocarbon or concrete surface, ...
See the other products
PEINTURES MAESTRIA

decorative coating
CAPAROL-REIBEPUTZ R 20
Textured renders/plasters for decorative interior coatings. Field of Application Decorative, expressively corrugated texture finishes/plaster coatings for interior surfaces. Easy to apply and to texture. Material ...

building coating
RENAUL GRAIN FIN
Plastic covering designed to be applied in stable and rigid hydraulic surfaces complying withNF P 74202 (DTU 59/2) norm. Micro porous. The product remains stable with time. Conceals surface web cracks and defects. Ten-year ...
See the other products
BB FABRICATION RENAULAC

decorative coating
ORANGE PEEL

outdoor coating
FLOORGUM TYRE
... resistant and with no maintenance required, it offers a very economical solution Key Benefits Can be used as a protective coating if combined with our liquid waterproofing products Acriflex Winter and Acriflex Fybro Ideal ...

cladding coating
DECOPIERRE 08
DECOPIERRE natural limestone wall coating is a unique process made from crushed limestone, powdered marble dust and natural pigments. DECOPIERRE expertise is to mix this highly performing material to the know how of well ...
See the other products
DECOPIERRE