Table football
How to choose this product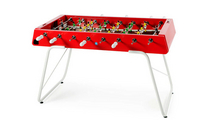 Table football is a soccer game opposing one- or two-player teams. The table surface resembles a soccer field. Above it, 22 figurines representing the two teams of 11 players hang from eight transverse, rotating bars. Each team has four bars at its disposal:
- one holds three forwards (facing the opposing defenders)
- one holds five midfielders (facing the opposing midfielders)
- the third has two backs (facing the opposing forwards)
- the last bar holds the goalkeeper

There is a goal in the form of a hooded opening at each end of the table, as well as a counter for keeping score. The ball can be of cork or plastic. Tables come in a wide variety of sizes and models. Some have coin slots, drawers or other features.
Applications
Table football can be used indoors or out, at home or in a commercial setting, such as a bar, a game center, etc.
How to choose
In addition to its aesthetic qualities, a table should be chosen with an eye toward solidity and stability (legs with crossbars). This adds to the unit's weight. Other factors include the quality of the bars and the figurines, and the presence of a trap facilitating cleaning.
8 companies | 48 architectural and design products
1 products THE ORIGINAL BOOK WORKS
Filter by :
› New products

(0)

› Products with video

(0)
Refine the search
Table football
Extend the search
Search by manufacturer
Search by catalog