How to choose this product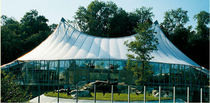 A tensile structure is one supported by steel cables forming the structural elements of the roof. It can be flat or anticlastic, covered by a membrane or simply a network of cables. It offers numerous structural and architectural possibilities. ArchExpo features such structures appropriate for a variety of settings including airports, special events and sports arenas. There is also a choice of different membrane textiles, anchors and cables.
Applications
These structures have become increasingly common in the architectural environment. They are used to roof stadiums, station platforms, arenas, exposition halls, recreational facilities, festival tents, bandstands and other buildings.
Technologies
Such structures use a wide variety of materials and techniques. Modern technology and innovations permit extensive spans. Their coverings require the use of sophisticated, fireproof synthetic fabrics such as PVC, FG/PTFE, ETFE or other light materials.
How to choose
Choice will depend on technological possibilities. The structure should meet the needs of the project and blend into the environment.
Advantages
- Innovative configurations
- Efficient use of space
- Permanent or temporary