How to choose this product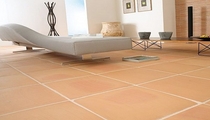 Terracotta tile is made from clay fired at relatively low temperature. Its surface is matte and slightly rough, in colors ranging from light ocher through orange to dark brown.
Applications
This versatile floor covering can be used indoors or out, in living rooms and bedrooms or on patios and terraces. It is occasionally used as a wall covering.
Technologies
These tiles are usually hand-made by artisans. They are shaped and left to dry on the ground before being low-fired. This technique yields a product with texture and color irregularities, adding to its natural look and rustic appeal, differentiating it from other types of covering.
Advantages
- Natural, rustic aesthetic
- Ecological
- Warm look