The Online Architecture and Design Exhibition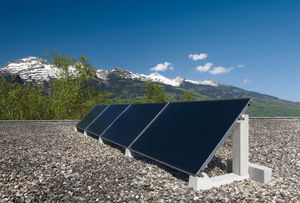 flat thermal panel
ULTRASOL
The solar energy system uses free, sustainable solar energy to heat water and even the building itself an excellent reason to choose an economical, environmentally friendly system like this one. The ...
See the other products
Hoval Italia

evacuated tubular thermal panel
TUBO
... choice of materials distinguish it from all other evacuated collectors available on the market. It harvests significantly more solar heat than flat plate collectors, also in winter and in the transition period, when the ...
See the other products
CONSOLAR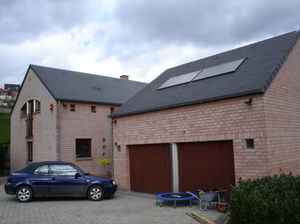 flat thermal panel
ECOSOL
... technological development. The solar panels have anti-reflective coating and a high-performance absorbent surface which give it excellent physical and thermal properties. The Ecosol 2.32 panel ...
See the other products
ESE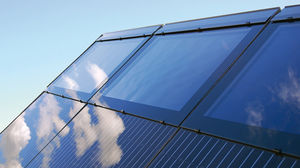 flat thermal panel
MEGASLATE®
The MegaSlate® thermal panel was developed in collaboration with H+S Solar. It incorporates 20 years of H+S Solar product know-how and expands the tried and tested MegaSlate® solar ...

... hot water and can continue using their space heating. As for our entire solar range we are applying our industry-leading quality standards for roofing products to our solar thermal offer ...
See the other products
Monier Braas

flat solar thermal collector
FK 250 P / FK 250 L
... plate collector series encompasses the latest patented technologies along with industry know how. The FK 250 black anodised frame collector is available in portrait or landscape versions and is modular in design and ...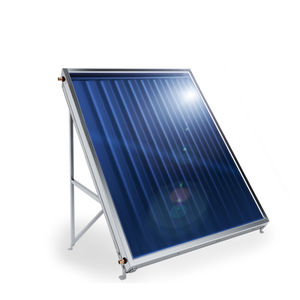 flat solar thermal collector
GREEN LINE: CLASSIC R 1,5
... even in extreme conditions; - hardened heat resistant prismatic glass of low iron content; - unique steady construction a frame from a single-component aluminum profile, anodized coated; - gaskets from UV-protected and ...

flat solar thermal collector
HP SERIES
Peak power: 208, 230, 255, 280 W
... options. • Copper+copper solution. • Solar Keymark Certified. • Temperred solar glass ensures high solar transmittance and long durability. • Rockwool insulation for excellent thermal ...
See the other products
Bural

flat thermal panel
INFINITY 3
... high-selective eta Plus-cover for the optimized yield Collector is suitable for Pitch- and Flat-Roof-Mounting Powder-coater collector frame in two colours: anthracite (RAL 7016), silver (RAL 9006)
See the other products
Phoenix

... one-piece type in EPDM, anti-UV Frame: anodized, bronze-coloured The thermal solar flat-plate collectors VC 25 can be directly interconnected in series without the aid of supplementary ...
See the other products
Fondital

flat solar thermal collector
VEGA CLASSIC
... lath with anodized coated, extruded aluminium Absorber Small 12 pipes, big 16 pipes, aluminium Absorber Surface Black solar paint Upper Cover 4mm thick glass Lower Cover 0.40mm thick aluminium or iron ...

Solar selective thermal colector, Solar Keymark certification and a 10-year warranty. Main characteristics Constructed in aluminium, designed to withstand winds over 150km/h and snow ...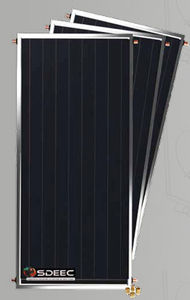 Optimize your heating installation and sanitary water production with SDEECs solar panels. Solar kit components : Circulator Solar collector Expansion vessel Thermostatic mixing ...

water heating thermal panel
150-1-T250
Storage capacity: 150 l
... overheating. The EUROSTAR FINO "heliothermic liquid" will last for a lifetime without needing to be replaced. The solar panel's glazing is 4 mm low iron solar prismatic tempered glass ...
See the other products
Sole

flat thermal panel
SPACE ENERGY
Solar systems Space Energy are designated for domestic hot water heating using renewable sources of energy and with emphasis on ecology, service comfort and minimalization of operating costs. The core of the system consists ...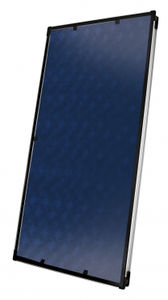 flat solar thermal collector
ZELIOS XP 2.5
See the other products
CHAFFOTEAUX

flat thermal panel
SCM 215
... collector SCM 215 reliably absorbs radiated solar energy and converts it to usable heat. Thanks to its light-weight design it is easy to install and guarantees high yields. The silver or black anodised frames ...

flat solar thermal collector
KS2100 TP AC
... capable of withstanding high temperatures and thermal stresses encountered in solar thermal applications. KS2100 TP AC has been subjected to full energy and quality tests which are confirmed by the SOLAR ...
See the other products
HEWALEX Solar Collectors

Flat solar collector OP-V2 with high efficiency, for vertical or horizontal assem­bly. Hydraulic circuit in copper grid, with high selective copper plate absorber. The collector was designed for large installations. Due ...
See the other products
Openplus, Lda

flat thermal panel
HELIOSTAR®
Made of a closed polycarbonate case construction, the Roth Heliostar® unites high-tech material and mature technology. Polycarbonate is a perfect insulator. Due to this feature the thick walled polycarbonate case of the Roth Heliostar® ...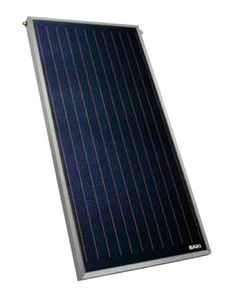 flat thermal panel
SB 25+V/O
Gross surface: 2,51 m² (SB25+V/O), 2,01 m² (SB20+V/O ), 10,05 m² (SB100) Meander pipes for a better heat transmission (SB20+,SB25+) Installation on a pitched, flat built in roof Solutions for groups from 3 to 7 people Hydraulic group ...
See the other products
BAXI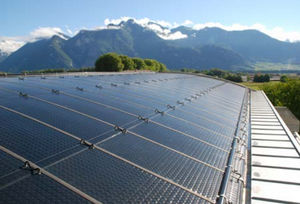 See the other products
Energie Solaire

evacuated tubular thermal panel
R1 : TZ58/1800-20R1
See the other products
Sun rain

flat thermal panel
TS8000
... means even on a cloudy day, solar gain can still be made. Ideal technology provides solar thermal solutions in both flate plate or evacuated tube format collectors. The Ideal flat plate technology is ...

With SOLARFOCUS CPC collector technology, it is also possible to make efficient use of light falling on the collector at a low angle. This is important in the transitional period (spring and autumn), when up to 80 % of the sun's rays ...
See the other products
SOLARFOCUS