The Online Architecture and Design Exhibition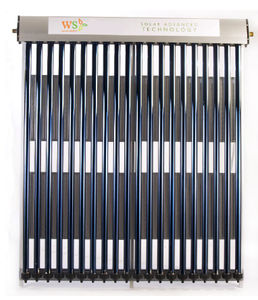 evacuated tubular thermal panel
WS-HP
VACUUM TUBE COLLECTOR - HEAT-PIPE Solar collector vacuum tube to achieve maximum performance.
See the other products
Wolss Sunrain Solar Energy

evacuated tubular thermal panel
CPC
Vacuum tube collector designed according to the thermos flask principle. Excellent solar yield as a result of minimal heat loss and greater output. Long service life as a result of excellent quality. An additional mirror ...
See the other products
MHG Heating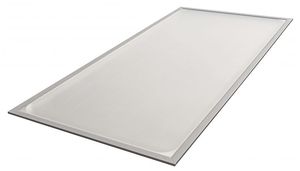 Flat solar collector certification en 12975 produced by Sunerg. Pressed metallic case, sheep wool thermal insulation Solar copper plate with titanium high selective treatment and ultrasonic ...
See the other products
SUNERG SOLAR

... excellence is secured for customers in years to come. GREENoneTECAluminium Tray Collectors Aluminium Frame Collectors Vacuum Tube Collectors Wooden Frame Inroof Collectors Thermosifon Systems Facade ...

We always realise large systems according to your specifications. We will consult you and submit a customized offer for your project. On demand, we will also support you during the installation and the commissioning of your plant. According ...
See the other products
SUNSET Energietechnik GmbH

The innovative vacuum collector TS400 converts up to 47 % of diffuse light into energy. That means that there is enough power also on cloudy days and low surrounding temperatures. Because of its high performance this collector suits especially ...
See the other products
IBC Heiztechnik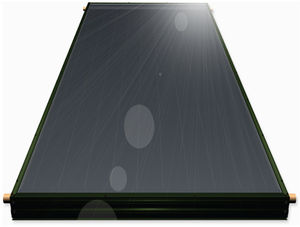 Flat Plate Panel Solar Collectors harness the power of the sun to provide energy for hydronic systems while reducing utility costs and pollution. They are coated with a selective material to enhance solar ...
See the other products
HTP Inc.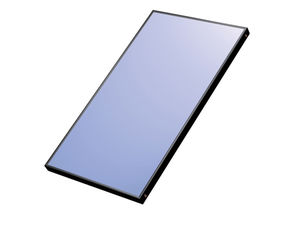 ... APPROXIMATELY 2 STANDARD COLLECTORS with the advantage of reducing installation costs (fewer panels) and of minimising critical points (connections between panels).

Wide options for high effiency. Solar collectors, all are our own products, work much more productive than the rivals in the system because of the material quality and production technology. Our solar ...
See the other products
ANADOLU ISI

flat thermal panel
SOLARFLO™ ON-ROOF
... Solarflo works Baxi SolarfloTM On-roof panels Baxi SolarfloTM on-roof panels are the perfect solution for updating existing properties, we also offer an A-frame option for flat roof applications. ...
See the other products
BDR Thermea

FLAT PLATE SOLAR COLLECTORS The SUNSYSTEM range of flat plate solar collectors provides variety of options for every application. * Two grades of efficiency - Standard and Select SUNSYSTEM ...
See the other products
NES - New Energy Systems Ltd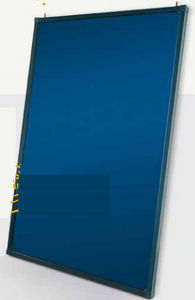 flat thermal panel
COLLECTOR TE 420 EM-AL
Dimensions A x B x C: 1870 x 1150 x 75 mm Gross area: 2,2 m2 Absorber area: 2,05 m2 Weight: 37 kg Operating pressure: 10 bar Nominal rate of flow: 80 l/ h Nominal pressure loss: 160 mbar Connections: 2 x 12 mm copper pipe Cover: Safety ...
See the other products
Thermic Energy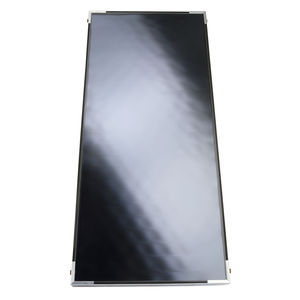 flat solar thermal collector
VITOSOL 100-FM
Take advantage of these benefits No overheating or vapour formation in the case of low heat demand Higher solar coverage for central heating backup and DHW heating Universally suitable for above roof installation, roof ...
See the other products
VIESSMANN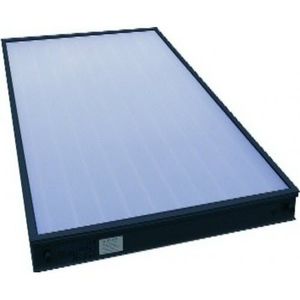 flat solar thermal collector
HELIOPLAN S
Solar collector for vertical or horizontal installation (except in-roof integrated) Highly selective absorbing surface, vacuum deposited on aluminium sheet Tubing in copper, laser welded on the absorber Aluminium frame, ...