The Online Architecture and Design Exhibition

... When used with a two zone heating system the VR 81 becomes the room thermostat for the second heating zone while the weather compensator VRC 470 or VRC 470f would act as a room thermostat for the first ...
See the other products
VAILLANT

See the other products
Saunier Duval

room thermostat
ATELIER-M
Is the weather outside really doing what it promised? Now you can see at a glance: On the Merten radio thermometer. Wireless transmission at a range of up to 30 m. Measuring range: -20°C to +45°C.

programmable thermostat
TYBOX 217
Hard-wired programmable thermostat for boiler - batteries - 6 levels of settings Intelligence Range • Choice from 6 adjustable temperatures from 5 to 30°C per day • Programming can be customised using a switch: - ...
See the other products
DELTA DORE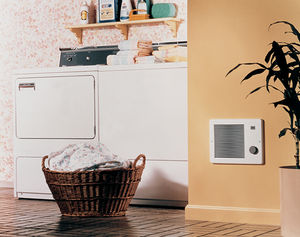 mechanical thermostat
170
... heating. UL Listed for safety. Also available in project packs (171H Rough-In Housing Kit, and 170F without thermostat or 170FT with thermostat Finish Kits) for the convenience of contractors working ...

... switch. TH7 thermostat monitors and regulates temperature from -40°C to +80°C with a wide setting range. TH7 thermostat is suitable for frost protection solutions and solutions where higher temperatures ...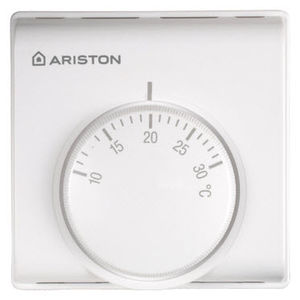 Compatible with all Ariston boilers Sets the desired temperature for the home Simple operation
See the other products
Ariston

room thermostat
6124/01-500
With labelling field. For ABB i-bus(R) KNX bus coupler 6120/12-101, 6120/13. Support of KNX functions through innovative colour concept (yellow=lighting, blue=blind, orange=RTC, magenta=scene and white=neutral/no function assigned) or ...
See the other products
ABB STOTZ-KONTAKT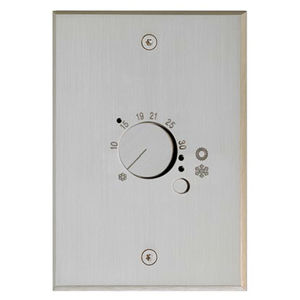 room thermostat
CLASSIQUE : FC3001A-K1000120
115x80 mm 1 Thermostat Material : Thick brass 3 mm Finish : Brushed Nickel Possible screwless : No Room thermostat - Model LEGRAND 76720 Suitable for controlling heated ceilings and underfloor ...

programmable thermostat
OVALIS
See the other products
SCHNEIDER ELECTRIC


programmable thermostat
DOMOCÂBLE
See the other products
ATLANTIC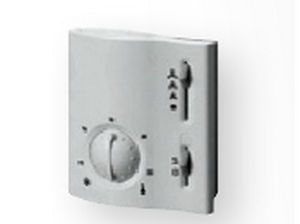 mechanical thermostat
RAB30
Electromechanical thermostat with 3 fan speeds Manual selection of the operating mode (heating/cooling) For terminal units with 2 pipes, or 2 pipes + electric heating element or 4 pipes Main features Vaire power voltage: ...
See the other products
TECHNIBEL

programmable thermostat
SMARTY-CRONOTERMOSTATO SETTIMANALE TOUCHSCREEN EMMETI
External dimensions: 120 x 90 x 28 mm Touch-screen display 80 x 55 mm (3,8") Weekly programming for periods of at last 30 minutes. Temperatures can be adjusted on three levels: - Comfort - Energy saving - Off with the option of setting ...

The Control4® Wireless Thermostat adds intelligent temperature control to your home and flexibility that supports most HVAC systems and offers up to 6 set points per day that you get to determine. Enjoy a heating and ...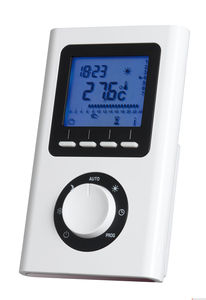 radiator thermostat
IR-PROG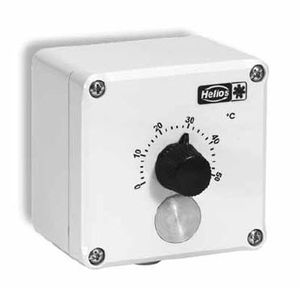 mechanical thermostat
TME 1
Robust electronical thermostat for temperature dependent on/off operation of fans or heaters. Suitable for installation in humid and dusty rooms. Surface installation in any position.

battery operated room thermostat. TPI energy saving software Can be used for new installation or as a replacement 3 amp volt free change over contacts Ideal for use with combi boilers
See the other products
SECURE

mechanical thermostat
ABB EB-A
See the other products
MINIB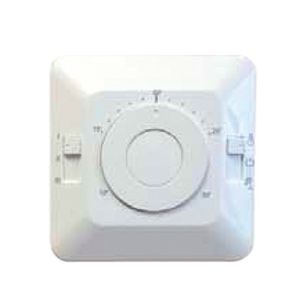 Analogue electronic thermostat for fan coils with 2 or 4 pipes TECHNICAL DATA • On/Off • Ambient temperature regulation • Manual winter/summer selection • Manual three-speed selection • Inlet for return air sensor ...
See the other products
HITECSA

mechanical thermostat
PECO
Single Stage Thermostat Controller – PECO • Single Stage Thermostat Controller – PECO • Agricultural thermostat – Raintight • NEMA 4X, SPDT Line Voltage Thermostat • ...

programmable thermostat
500 SERIES
... Series Thermostat. The 500-SeriesThermostat auto-configures the system and constantly communicates with the indoor and outdoor heating and cooling components to provide the homeowner with the utmost in home comfort and ...
See the other products
Ruud Heating & Cooling Division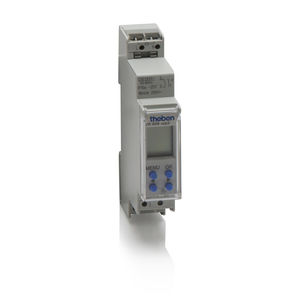 programmable thermostat
TR 608
Requirements‑based programming option, e.g. end of workday CLOSED (Mon.‑Thu. 6:00 p.m. CLOSED, Fri. 3:00 p.m. CLOSED) Larger control panel housings are required for installation in compact or modular GVL‑K, GVL‑M or RZN‑K, RZN‑M control ...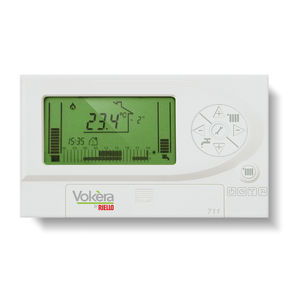 programmable thermostat
711 OPEN THERM RF
Vokèra controls complement our boilers and renewables products. Controls are a simple way to maximise product efficiency and give you control over your heating system. The latest controls pay particular attention to energy management, ...
See the other products
Vokèra

electronic thermostat
4041-128
... easy by using fireplace remote controls and thermostats from Heat & Glo. With a wide selection of options that are compatible with a range of fireplace models, you can find the perfect fireplace thermostat ...
See the other products
HEAT & GLO®