The Online Architecture and Design Exhibition

programmable thermostat
TM4-TS
Overview The Solfex TM4 is a 4 Zone Programmer, designed to work with our UH3 wiring centre, but could equally be used to replace standard programmers. Programmers are often difficult to understand, made worse by the fact that they are ...
See the other products
Solfex

programmable thermostat
71 SERIES
... distinctive feature. Pushbuttons, thermostats and flush-mounted inserts may be combined according to your taste and your needs. The simple and essential design that makes compactness a distinctive feature. Pushbuttons, ...

programmable thermostat
HM-CC-RT-DN
... quickly and briefly Precise temperature adjustment (to the nearest 0.5°C) Automatic frost protection automatically opens valves if necessary Automatic limescale protection: automatic ...
See the other products
eQ-3


room thermostat
550-13052
The thermostat will be mounted in any room fitted with a floor-heating system, radiator, heating unit or cooling unit. It controls the heating or cooling for the room in which it is mounted. The thermostat ...

0 °C to +60 °C (32 °F to 140 °F) external PT100 Single thermostat for temperature monitoring and regulation in range -30 °C to +70 °C (-22 °F to 158 °F) in six ranges Can be used for monitoring temperature ...
See the other products
ELKO

programmable thermostat
HV100
... during power off. Temperature adjustable with Frost protection and high temperature protection. HV2000 Intelligent Electronic Thermostats are fitted to BS4662 wall box for installation.
See the other products
Retrotouch

HERZ-Electronic Room Temperature Controller for 2-Point or Pulse Control with digital timer Digital chrono thermostat The digital chrono thermostat ...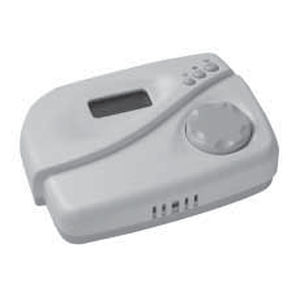 programmable thermostat
CD2X
Programmable electronic thermostat for fan coil with LCD display Main functions: - fan coil switching on and off - environment temperature control - manual or automatic ...
See the other products
Ventilclima

room thermostat
E-ROOM THERMO
is an ambient thermostat with LCD and pushbuttons. It includes a temperature sensor to measure the ambient temperature of a zone and send the value to the HVAC control system. The device can communicate through a standard ...
See the other products
e-controls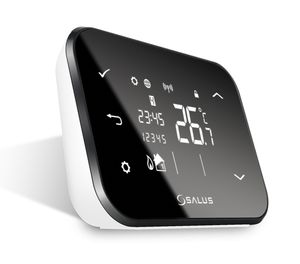 • Access and control your heating and hot water via the internet • Compatible with your PC or Smartphone • Your PC and Smartphone connects to the system using your existing broadband connection • The internal system uses 868 MHz for ...
See the other products
Salus Controls GmbH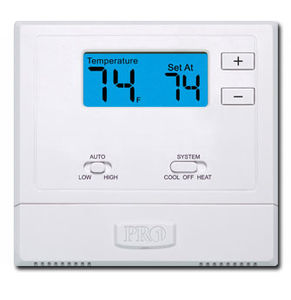 room thermostat
PYRCUCA0B
Wired or Wireless PTAC Thermostat Affordable Comfort Control High and Low Speed Fan Heating and Cooling Set-point Limits Battery or 24v Power (Wireless) Room Temperature Calibration Adjustment 5 Year PRO1 ...

room thermostat
FLUSH-MOUNT
Digital thermostat with advanced temperature and fan speed control. Flush-mount version (compatible with most popular plates) or wall-mount. Equipped with 1 input and 5 outputs.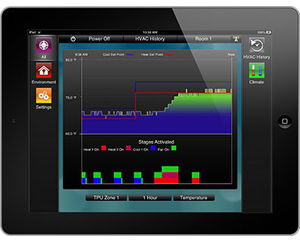 ... Wireless Thermostat (SST-W100) is a WiFi enabled digital thermostat designed to control Heating, Ventilation and Air Conditioning (HVAC) systems within any residential and commercial ...

room thermostat
HVAC INTERFACEPOINT
The interface is a versatile bridge between the Vantage Infusion system & HVAC systems. Thanks to the HVAC interfacepoint the homeowner can fully control the temperature in and around the house. The Vantage HVAC InterfacePoint makes ...

digital thermostat
SoHo COLLECTION
... COMFORT THERMOSTAT WITH METAL COVER FEDE+ presents a wide range of electronic devices to provide you with a more comfortable lifestyle. Thermostats for air temperature control, under ...


... systems, it allows you to control all of your EnOcean heating modules. Programmable from your Smartphone or computer, the thermostat can manage up to 4 heating zones in your home.

programmable thermostat
NEA SMART
... easily. There are two options for the Room Control Unit: NEA Smart Room Control Display Unit NEA Smart Room Control Unit - Dial
See the other products
Rehau

programmable thermostat
RHC-TST-83
... back plate provides opportunities for future upgrades Modern Design with a large, easy-to-read screen and a bright backlit display Proven Performance with ±1 degree temperature accuracy Temperature Setpoint Limits Keypad ...

The thermostat features an updated look and five-day programming, plus weekends, in addition to normal thermostat mode.

... mounted to the side of the boiler (magnetic strips included). ALPHA DGT • Room thermostat control (5°C - 35°C temperature range). • Large, easy to read digital display. • Tactile ...

programmable thermostat
LX
... day period. Custom programming reduces energy use while you're away. Get exact temperature control with digital readouts. Backlit digital display makes settings and temperatures easily ...
See the other products
York

programmable thermostat
WS0TH
The LevNet RF Energy Harvesting with Wireless Protocol Solutions Thermostat (in 120-277VAC) uses RF communication to provide quick and easy implementation of the energy-saving HVAC controls.

Cartridge Element Rotatable display for Horizontal or Vertical use Choice of white or chrome finish 300w, 600w or 900w outputs Boost button Selectable temperature
See the other products
REINA DESIGN